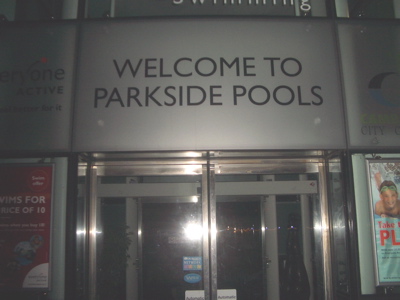 Cambridge City Council's Community Services Scrutiny Committee on Thursday the 15th of January 2009 will be discussing an item entitled: "Leisure Management Contract September 2010 Onwards". Not only does this item have an obscure title, but it is scheduled to be discussed in secret, with the press and public excluded. I believe what is to be discussed under this heading is the contract for the future management of the city's swimming pools. This is clearly something which many of the city's residents have an interest in. As well as individuals, organizations based in the city including schools and the universities along with residents groups would I am sure like to be able to see what the council is planning with respect to the future of the City's pools and offer their input.
One way to ensure there is some open discussion is for members of the public to attend the meeting and ask questions on the future of Cambridge's Swimming Pools. Information for public questioners is available on the agenda.
Parkside Pools
While Parkside pools are in an impressive building and are very modern, the pools and showers are often cold, and the changing areas can be dirty. The range of facilities, payment options, prices and discounts are not well publicised in reception or online. The Parkside pools website currently states "coming soon" under the major headings of "facilities", "price list", "what's going on" and "centre news", and has done for some time. For a long period recently even the pool's timetable was not linked from the relevant page on the City Council's website. The cold pool particularly appears to deter some older users, though I don't find it particularly pleasant at times either.
A recently introduced policy of requiring those attending swimming lessons to pay for a swimming session if they arrive early and want to swim in the public lanes prior to their lessons appears to be causing conflict between young people and the lifeguards asked to enforce the policy. It is clearly a scheme designed to improve statistics and raise revenue and is not safety related as those willing to pay are then free to swim. I believe any new contract ought not encourage SLM to behave like this to manipulate statistics. Occasionally rowdy and anti-social behaviour is seen at pools including Parkside and Jesus Green, though there is a lot of subjectivity in what is and is not seen as acceptable.
The fabric and physical design of the changing rooms does not lend itself to being easily kept clean. I would like to see some lessons learnt from some of the better run pools in the country.
Councillor Herbert tabled an oral question for the Full Council meeting on the 4th of December asking Cllr Julie Smith:

What action is the Council taking to tackle erratic pool maintenance and repeated freezing conditions for swimmers at its Parkside pool?
However the thirty minutes alloted for questions had elapsed before this question was reached. The system for questioning executive councillors in this way is flawed as while answers are required to be given to the councillor who asked the question they are not made public. Even the answers which are given during the council meetings are incredibly not routinely minuted and made available to the public.
Other Pools
There are issues with other pools in the City which the council ought ensure are dealt with in the new pool management contract including:
Opening Hours of the Learner Pool in King's Hedges
The half-opening of the Jesus Green Pool, (where part of the pool is roped off when only one life-guard is on duty, something which occasionally I have also experienced at Parkside even when there have been a reasonable number of swimmers in the pool)
Need for Secrecy
I fully understand that some elements of contract negotiation have to be carried out in private, to maintain the council's ability to effectively negotiate and get the best price for these services for City residents. However much discussion, of the kind I have included so far in this post, ought in my view be carried out in public. Items such as methods of agreeing opening hours, pricing, and standards of service such as cleanliness and temperature of the water do not need secret debates. As with most items on City Council agendas where there is to be discussion in secret, I believe what can be dealt with in public ought to be dealt with in public before entering closed session. One problem with labelling agenda items and reports secret is that councillors become wary about what they can discuss with constituents.
The current contract holders, Sports and Leisure Management Limited (SLM) have an advantage as extending their current contract does not incur "contract procurement costs" which would arise if other companies were considered. Even if councillors thought SLM's performance inadequate they might have to evaluate and balance their concerns with the extra costs of running a broader competition. The Budget Setting Report to the Strategy and Resources Scrutiny Committee on Monday the 19th of January 2009 states that if a procurement process, rather than an extension of the current contract, is opted for the cost of the process will be £70,000. Previously the Council have used a bunch of strategic leisure consultants, Strategic Leisure Limited to advise them on the procurement process. Such consultants are likely to be benefiting from yet more of city resident's money as the Budget Setting Report also includes £10,000 which the council is proposing to spend on :
Specialist advice to reduce carbon footprint of swimming pools owned by the City Council. Assessment of City Council pools to produce asset investment strategy to deliver reduction in carbon footprint and savings in utility costs. A proportion of Cambridge's carbon footprint is the result of the activities of Cambridge City Council. In 2005-6 the council's Leisure Centres emitted over 2000 tonnes of CO2 each year, the largest emissions of any council service area (Cambridge Climate Change and Strategy Action Plan 2008-12)
The fact the City Council own the pools and SLM run them presents a need for tricky balancing acts to be achieved. New equipment may both add to the capital value of the City Council's assets as well as result in money saving for the SLM, the contract needs to ensure that city residents see the benefits of any savings resulting from new investment they put in. I support running the City's pools as efficiently as possible, but given that there is a financial incentive to improve efficiency I can not see why the city council need fund the work or employ consultants. What advice can consultants provide which cannot be found in-house at the council or SLM or be obtained from those seeking to supply the City with equipment to enable the more efficient running of the pools?
Perhaps the council could consider looking at geothermal heating?