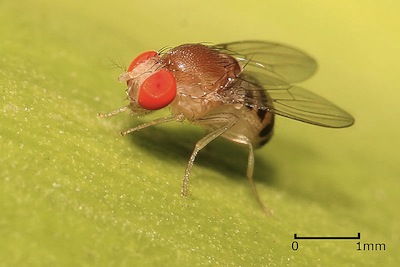 Julian Huppert, the Liberal Democrat candidate standing to become Cambridge's MP in the May 2010 general election makes a point of stressing his experience running a biotech company in the city. On his campaign website he writes:
A few years ago, I started a small biotech company, which was awarded a DTI 'Smart' award for innovation.
And on the 15th of April 2010 Mr Huppert, tweeted:
Finishing preparations for tonight's debate on entrepreneurship. Having founded my own award-winning biotech company, I have a lot to say!
In response one of Mr Huppert's Liberal Democrat colleagues, Joe Jordan, asked on Twitter for more details of Huppert's company, Huppert responded:
@teh_walrus it was a biotech company aiming to collect virgin female fruitflies! Trust me, this is an important task … and a big market!
This prompted and helped me Google the company and find out it was Cambridge Laboratory Innovations Ltd. It's no secret it's also mentioned on Huppert's academic CV. A quick search on Companies House, once I'd checked the "dissolved" companies check box, enabled me to pull up some details: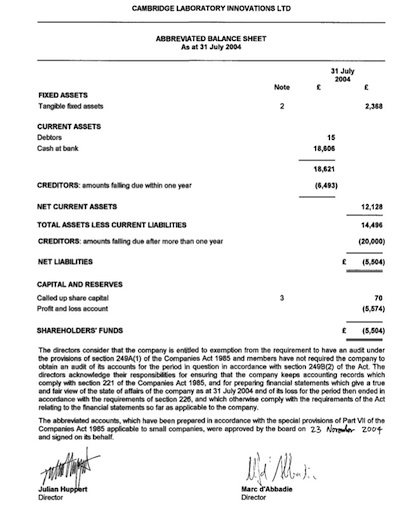 Accounts for Julian Huppert's Virgin Female Fruit Fly Business Cambridge Laboratory Innovations Ltd. (
Larger
)
Cambridge Laboratory Innovations Ltd
Date of Incorporation: 10/07/2003
Status: Dissolved 10/01/2006
During 2005/6 the company was in the process of being struck off the register of companies.
The company only filed one set of accounts, on 08/12/2004.
The company's accounts are small companies' accounts which mean they perfectly reasonably and legally don't include full details; however they so include two items of interest: what appears to me to be a loan to the company of £20,000 and a loss on the profit loss account of £5,574. From the published information it looks like a very small enterprise, which wasn't around very long (only operating for a year or so) and made a loss.
My Views
I think it is excellent that Mr Huppert has had experience of running a company. If elected he will be able to draw on his experiences trying to work with the likes of the HMRC and Companies house and the current bureaucracy in general.
While I'm publishing this article because I think its important for Cambridge electors to be able to see the scale, and degree of success, his business had; I don't think we in Britain should be as culturally critical of failure as we are and we should look favourably on those who've taken a business idea on and tried to make a go of it (as long as they're not irresponsible and don't leave large debts behind).
One thing I am very concerned about the tax rises in the Liberal Democrat manifesto published this week. One is a substantial hike in capital gains tax which would affect entrepreneurs like Huppert if they are looking to sell on their business. While the Lib Dems are trying to create a fairer tax system, and that's something I support I think we have to be careful not to get rid of legitimate tax breaks which we currently do give people who start their own businesses, who generate wealth and create jobs. Some Lib Dems have been talking this week about clamping down on companies, trusts and other means the rich use to avoid tax; as they've been slipping "companies" in there I'm again worried that, as with capital gains tax, they might accidentally end up targeting the wrong people.
Something I think we really have to do is take commercialisation of the UK university's research outputs more seriously. While it doesn't look at all as if Huppert's company came into this category, we need to ensure academics are not creating companies merely to tick a "route to commercialisation" box on a research grant application. Universities across the UK need to provide much better support for commercialisation, and we need to ensure the profits made get recycled back into universities where they ought be providing a major funding stream. I've written more about this in my article on Higher Education Cuts.