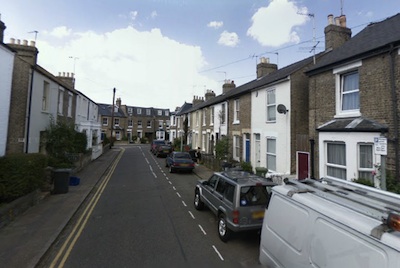 Spot the shared houses. Many streets in North Cambridge contain lots of shared houses which are indistinguishable from their neighbours.
As has been reported in the Cambridge News Labour Councillors Marchant-Daisley and Todd-Jones are putting forward a motion to Cambridge City Council's full council on Thursday the 19th of April 2012 calling for a cap on the proportion of houses of multiple occupancy in any particular area of Cambridge.
It is harder than it ought to be to get to grips with and comment on and discuss the motion because it lacks clarity. There are many different definitions of Houses in Multiple Occupation which are used by the council and other arms of the state for various purposes. There are definitions relating to council tax, planning and licensing. Before it can even be debated the motion needs to be clarified to make clear the definition in question is that relating to planning. I suggest the movers of the motion ask the mayor to accept such a clarification prior to the debate.
HMOs with more than seven unrelated occupiers already require planning permission, however it appears that councillors Marchant-Daisley and Todd-Jones wish to reduce the threshold to three or more people in two or more unrelated households.
The effect of this would be to push up housing prices for many of those in Cambridge who find it hardest to afford even remotely suitable accommodation. The pool of properties available to students and working sharers would be drastically reduced if the councillors' proposals became council policy.
I certainly would not have been able to afford to live in Cambridge had the proposed policy been in place over the last decade. I was only able to live in the city as a result of renting a room in a shared house.
I think that groups of students and professional sharers should not be discriminated against at all in the housing market. Personally I'm even unhappy with allowing landlords to specify "no sharers" or "no students" when renting their properties out.
The vast majority of shared houses cause no problems whatsoever, and I am sure that many residents would not be able to identify which properties on their streets are occupied by sharers.
I find it bizarre that Labour councillors are proposing a policy which will disadvantage those whose interests voters would expect Labour party members to have at heart. This is the kind of policy I'd expect those paying hundreds of thousands of pounds to have dinner with David Cameron to be urging him to impose, not something coming from our local Labour councillors. I'm sure some of the rich elite would rather the likes of me couldn't afford to live in Cambridge; I thought that kind of attitude would be limited to the kinds of Liberal Democrats who live in enormous architect designed mansions on Millington Road (a plush private road in Newnham where the council leader and her sidekick Cllr Cantrill reside).
I wonder how in-touch the two councillors proposing this motion are with the reality of the housing situation in Cambridge currently. Many young professionals in jobs which are key to the city's functioning, teachers, doctors, academics, live in shared houses; often in unsuitable accommodation which isn't really appropriate and makes lives more stressful and challenging than they ought to be. Shared houses are far from the bottom of the accommodation pile in Cambridge, I've met a teacher living in an uninsulated breeze block built shed off Nemarket Road, and seen many people living in other structures in gardens. Those living as lodgers too often have very poor conditions, often without access to kitchens or the ability to do any washing up.
Where I think there ought be regulation is the point at which we have specially modified properties designed to be let out by the room to unrelated occupants. I think it is right to regulate these via the planning system, as occurs now. There is also licensing of such premises and if they are mismanaged and a regular source of problems licences should be removed, just as they ought be from premises licensed for other purposes.
Even if we were only considering larger, specially adapted properties, I would not set a cap as is proposed over the whole city, though I can see that such a cap, or target ratio, might be appropriate on some streets. The decisions on each property ought be made just like any other planning application, on its individual merits, by councillors – though of course there is a need for a policy against which applications are assessed. A ratio for certain streets or areas could form part of that policy just as the proportions of different types of commercial activity (eg. the ratio of shops to restaurants) are supposedly regulated in parts of the city.
The motion text reads:
The Council recognises the vital contribution that well-run Houses in Multiple Occupation (HMOs) make in providing housing for families, students, professionals and migrant workers.

However, given problems from some HMOs failing to deliver quality, safe housing, or creating serious problems for neighbours, the Council requests the Executive Councillor for Housing to bring forward a report to assess options to improve the operation and regulation of HMOs in Cambridge, including:

extending the current HMO definition to include all properties with 3 or more people in two or more unrelated households, regardless of the building layout
improved enforcement of breaches of licences granted to HMOs, and
wider adoption of best practice on HMOs by comparable cities including Oxford,

and that the Head of Planning Services also report to the Executive Councillor for Planning and Sustainable Transport and the Development Plan Scrutiny Sub-Committee on the future option of denying permission for additional HMOs in any street or 200 metre stretch of any street where HMO numbers reach 25% of residential properties, to enable inclusion of this proposal in the summer 'issues and options' consultation on the Cambridge Local Plan 2014 to 2031.
I fully support reviewing this issue as part of the local plan review, I would like to see officers produce a report outlining the options so that the public can comment on it during the review. What I oppose are the specific proposals made, which are far too premature in any case – such specific proposals ought come after the report and consultation.
These councillors are coming at the problem from completely the wrong angle. They're overly concerning themselves with the rather lofty and abstract concerns of rich, often older, home-owners who are concerned about the way the city is changing around them, rather than focusing on ensuring that those working and studying and living in Cambridge have a reasonable chance of finding appropriate and affordable accommodation.
Attacks on students and house sharers are never far below the surface in Cambridge, and often break out among the public and councillors, particularly at East Area Committee meetings. I think councillors ought stop attacking a large fraction of the city's population but where there are specific problems, for example with noise, the particular individuals and properties concerned ought be specifically targeted rather than a large swathe of the city's residents.
I suspect it is true that many of those living in shared houses will be an easy target for councillors, but their interests need to be considered by their representatives even if they don't themselves generally have the time, knowledge and inclination to find out about what proposals are before the council which might affect them. Those living in shared houses are likely to be younger, busier and living more stressful lives than the older, often retired, home owners who're typically those complaining. That doesn't though in my view mean that those living in shared houses are likely to contribute less to the city, as I've already said many of the key people who make this city work live in shared houses..
In the event the council shows support for the proposals put forward by Cllrs Marchant-Daisley and Todd-Jones I hope the students' unions, and those who represent others who will be affected will lobby against the proposals becoming part of the city's planning policies.
See Also