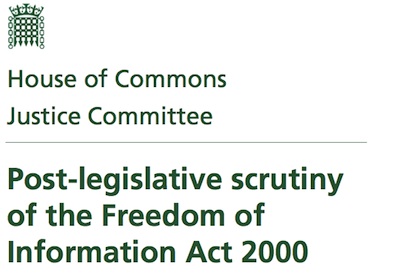 One bit of good news hidden amongst last week's Olympic furore was the report of the House of Commons' Justice Select Committee on their work on the post-legislative scrutiny of the Freedom of Information Act. (Report: Paged HTML, PDF).
None of the feared potential restrictions of Freedom of Information which had raised their heads as the review was being carried out materialised in the recommendations. Time limits on internal reviews and public interest tests, were recommended by the committee. This was something many of those seeking to strengthen the law, including the WhatDoTheyKnow team, had high up on their wish-lists.
I have a few brief comments on various aspects of the generally very positive report:
Publishing Statistics
Paragraph 109 of the report states:

We recommend that all public bodies subject to the Act should be required to publish data on the timeliness of their response to freedom of information requests.
Currently only central government bodies have to produce FOI statistics; I wonder if the committee realised that this recommendation would essentially extend the requirement for such record keeping and publication to all bodies. This sounds to me like a recommendation which risks creating a lot of bureaucracy and costs, with little benefit and is rather out of kilter with the rest of the report.
Cost Limits
I don't think the suggested reduction by a couple of hours (at £25/hour) would amount to a significant hit to the utility of FOI. The discussion of cost limits misses the question of what work ought be eligible to be counted towards the cost limit. The question of if redaction time ought be included wasn't addressed. Currently redaction time doesn't count towards the FOI cost limit, I'm surprised letting it count wasn't considered, and wasn't recommended, this would I think have been a more effective way of reducing excessive and unreasonable costs associated with some FOI requests. Perhaps offering a reduction in the cost limits was thought to be a more easily comprehensible "bone" to throw to those seeking to constrain Freedom of Information in the UK.
Names of Requestors on Disclosure Logs
One suggestion made is that public bodies ought publish the names of those who request information along with the information released to them. It will be interesting to see how the potential conflict between the Data Protection Act and this provision is resolved. Already via WhatDoTheyKnow some people knowingly put their names in the public domain online, but decide later they don't want to be associated with their request, and ask for it to be removed.
There may be unintended consequences here if the tension isn't robustly resolved. A anononmised disclosure log requires no maintenance, but one with names included, which people can request their names be removed from, needs people to consider and act on such name removal requests.
Universities
I thought it excellent the suggestion from universities that they ought be excluded from FOI was dismissed.
See also my article: Cambridge Colleges Seek FOI Exemption
Vexatious/Frivolous
I thought it was great to see the committee saying in paragraph 135
Such requests can usually be dealt with relatively easily, making it hard to justify a change in the law
This is what the WhatDoTheyKnow representation, which I helped work on, said.
Proactive Publication
Greater proactive publication gets a cursory mention in the conclusions; it's a pity the potential of more proactive publication to efficiently achieve the aims of the Freedom of Information Act wasn't taken up more strongly by the committee.
Making Freedom of Information Law Apply to More Organisations
Extending coverage to more bodies is discussed in the report in relation to private contractors; however the broader issue is rather missed. (WhatDoTheyKnow lists many public bodies which are not formally subject to FOI).
Ironic Secrecy
There have been a few ironic elements to this process. Given the subject matter was Freedom of Information the committee's rather strict rules on not publishing submissions before they published them on their own website felt slightly jarring to me.
A few days before the committee's report was published they, as is usual practice, sent out embargoed copies, including late submitted evidence from ex Prime Minister Tony Blair. While I complied with the embargo request due to the manner in which I received the report (as a member of the WhatDoTheyKnow team) I abhor not sharing information which ought be made openly available.
I'd rather Parliament and other arms of the state simply published things on their websites when they wanted to release them rather than giving advanced copies to selected people. One problem with the pre-distribution approach is often media reports become available, and people begin commenting on something, before they have had a chance to access and analyse the raw material. This results in response and debate being based on the story, the spin, rather than the substance. There is also the problem that the established, or favoured, elements of the media get an unfair advantage over their competition.
This article is written in an entirely personal capacity, and not as a WhatDoTheyKnow volunteer.