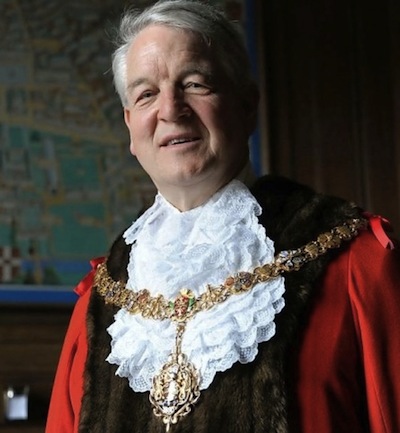 Ian Nimmo-Smith as Mayor of Cambridge (
Source
)
Following the elections on the 3rd of May 2012 there are 21 Liberal Democrats on Cambridge City Council and 21 others. The casting vote is held by Ian Nimmo-Smith. Mr Nimmo-Smith did not stand for re-election in May but as he was Mayor last year Section 3 of the Local Government Act 1972 enables him to continue as Mayor, and as a councillor, until his successor as mayor "becomes entitled to act as chairman".
While Ian Nimmo-Smith did not stand for re-election at the end of his term it appears even if he had been beaten in an election he would have been able to continue as a councillor. As it is he can wield more power with his chair's casting vote at full council, than those elected on the 3rd of May, to me that feels wrong and anti-democratic. Surely as his term as an elected councillor has come to an end he shouldn't be sitting in the council chamber and the deputy mayor ought be "entitled to act as chairman".
At around 8pm on the evening of the 10th of May 2012 I spoke to the man holding Cambridge's casting vote as he walked down Nuffield Road and Green End road in East Chesterton on his way home from chairing a meeting of the Fen Road steering group.
At the Fen Road meeting he made clear he would be hanging around; he introduced himself as a councillor and as chair of the North Area committee despite his term as a councillor having come to an end.
Under the bizzare and anomalous provision of Section 3 of the Local Government Act 1972 Nimmo-Smith intends to attend a joint development control (planning) committee meeting on the 16th of May, and will continue to act as vice chair.
He made clear that on the following day he plans to chair the North Area Committee on the 17th of May and on the 24th of May he is expected to chair, and hold the key casting vote at the annual meeting of the council which will elect the new mayor.
The person holding the mayor's casting vote is currently very important as if all other councillors vote against the Liberal Democrats, they will need the support of the outgoing mayor's casting vote to push through their choice of new mayor. If the Liberal Democrats wish to retain control of the council they will need the support of the new mayor. The new mayor will need to use their casting vote to push through any Liberal Democrat motions which face opposition from all other councillors.
Localism is clearly infectious as I started by asking Mr Nimmo-Smith about his role at the North Area Committee, I asked if he thought it right that he'd be chairing and potentially holding the casting vote in respect of planning decisions despite not having stood for re-election. Mr Nimmo-Smith betrayed too many years as a politician by stating an obvious, and true fact, rather than addressing the question, he stated: "a casting vote only becomes required if a vote is tied".
Vice Chair Cllr Ward indicated that he would be charing later elements of the North Area Committee meeting on the 17th of May, he didn't explain why, and neither did Mr Nimmo-Smith provide enlightenment.
Turning to the question of the key full council vote on electing a new mayor, Mr Nimmo-Smith told me that he would not vote at first on any motion to appoint a new mayor, he would only step in if there was a tied vote and a casting vote was needed.
I asked if he would, as a democrat, be turning up to the full council meeting. Mr Nimmo-Smith asked me if I had read the law, I confirmed I had and was aware he was apparently allowed to turn up and vote but suggested it was up to him to decide for himself if he thought it was the right thing to do. He asked me what the alternatives were I noted there was a deputy mayor, and that the chief executive could chair the meeting (without a vote obviously) until a mayor was elected in a similar way to committee managers chairing area committees before chairs are elected.
Commendably Mr Nimmo-Smith said he was still listening to the views of people on how, if at all, he should use his casting vote. He refused to comment on any hypothetical situations. I asked what factors he would take into account when deciding if and how to use his vote and if he viewed his role (as mayor hanger on) as a non-partisan one in the way that the role of mayor is nominally considered.
I asked if Mr Nimmo-Smith was still a Liberal Democrat; he confirmed he was still a party member but he said he would not be using his casting vote simply along party lines. I asked if the success in the recent Cambridge elections by Labour would be a factor in his decision, surprisingly he said that he would "be considering the Δ as well as the absolute", however he told me his major considerations would be who the largest group is and who is most likely to be able to form a stable administration for the city.
Mr Nimmo-Smith is also participating in the 3rd June 2012 Thames Diamond Jubilee Pageant; though it wasn't made clear when I heard him announce this on the radio in what capacity he is joining this event.
At the Fen Road steering group meeting Mr Nimmo-Smith had offered to continue to chair the group into the future if the group desired, in his capacity as a local resident with an interest in the area.