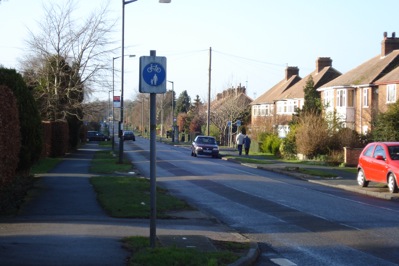 A recent survey conducted by Cambridgeshire police on Queen Edith's Way revealed that 32,000 vehicles per week were speeding to a degree which would prompt prosecution. Some were speeding to an extent which would result in them losing their license in one go if they were caught. Other statistics included:
Over 75% of vehicles were speeding
Around 350 vehicles per hour were speeding between 8am and 9am on weekdays
Sergeant Gordon Morgenthaler who presented the information to the South Area Committee on Thursday the 2nd of April 2009 said : "That's horrendous … The shocker was the amount of speeding in the middle of day, including at weekends".
He's right, it is horrendous, it clearly shows the police are failing to enforce the law here. The police offered no explanation as to why they were allowing this situation to occur and why action had not already been taken.
The speed limit on Queen Edith's Way is 30mph. The police stated that they were to begin offering drivers caught speeding between 30-40 mph in a 30mph limit the opportunity to go on a speed awareness course, it was reported that this was new to Cambridgeshire. (It has been reported elsewhere that offering these courses in Cambridgeshire began in April 2009).
I would be very concerned if, now the courses are available, the police are considering prosecuting people at speeds which they would not previously have taken any action at. Given we have people travelling at 57 mph down this road it is not those going at 32 mph who need to be targeted. Elsewhere in the country it has been reported that there has been action taken against those travelling at 32mph in a 30 zone; this has been linked to the initiation of speed-awareness courses. As action against those going 2mph over the limit doesn't target resources where the biggest problem is I think such a heavy handed approach is likely to result in drivers watching their speedometers rather than the road and damaging the relationship between the police and those making a reasonable effort to comply with the law. We need enforcement, but it needs to be done rationally, with a degree of common sense and targeting those driving at dangerous speeds.
On the subject of speed awareness courses I have suggested to members of the Police Authority that it ought not be necessary, as it is now, to return to the force area where the offence was committed in order to attend a course.
The survey was conducted following complaints by residents which had been followed up by County Councillor Geoff Heathcock. It is notable that Cllr Heathcock had had to take his concerns to police headquarters, suggesting the local processes for influencing policing are not working. The "Neighbourhood Profile" document presented to the meeting said merely :
Over 500 motorists were identified as exceeded the speed limit.
Given apparent difference I have verified that Sgt. Morgenthaler's statement to the meeting quoting 32,500 vehicles speeding in a week was accurate before publishing this article.
The police noted that residents had thought that speeding was worst at night, but the survey, conducted using on-road sensors, had shown it was a problem throughout the day. The survey also showed there is clearly very little congestion problem on this road.
If Cambridge had a Southern by-pass then less through traffic in a hurry would be using this road which currently fulfills the role of a Southern ring road. It is fantastic that we have a long straight road which takes people quickly from one area of the city to the other, its a shame people aren't obeying the law and using it responsibly.
Less ambitious than a new road – perhaps some judicious use of paint might be effective, painting stretches of the road red (as in Horningsea) or painting narrower lanes might slow traffic. Clearer signage of the presence of the school, particularly during relevant hours might also be worthwhile. Such simple and cheap methods, coupled with effective enforcement targeted at the worst offenders would be my preferred suggestion. If any speed reducing measures could provide additional benefits to cyclists that would clearly be desirable particularly on this road which has poor provision for cyclists given its usage and location.
Photograph from CycleStreets.net, licensed under the CC Attribution-Share Alike license.