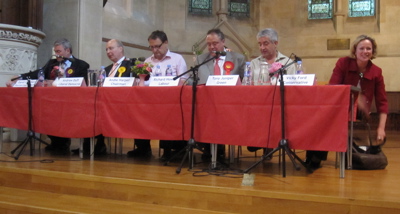 From left to right: David Bannerman (UKIP), Andrew Duff (Liberal Democrat), Andie Harper (Chairman), Richard Howitt (Labour), Tony Juniper (Green Spokesman), Vicky Ford (Conservative)
On the evening of the 1st of June I attended a European Election Hustings at the Emmanuel United Reformed Church in Cambridge. Amnesty International, Oxfam and NO2ID had collaborated to organise the event. MEP candidates or party representatives from the Conservative, Labour, Liberal Democrat, Green and UK Independence parties were present along with about two hundred people.
Those present were:
Labour candidate: Richard Howitt MEP
Conservative candidate: Vicky Ford
Liberal Democrat candidate: Andrew Duff MEP
Tony Juniper (Green Party Spokesman, not on the Green List for the EU Parliament)
United Kingdom Independence Party candidate David Campbell Bannerman
The husting was chaired by Andie Harper from BBC Radio Cambridgeshire. He explained that only those parties who currently have MEPs were invited onto the platform. A few others distributed literature (I believe that opportunity was open to all).
Questions were selected from those submitted by the audience.
Climate Change
Tony Juniper kicked off the answer to the question on climate change describing it as "the most pressing issue". He said that within the next 10-20 years we need our oil usage needs to peak (and start dropping) in order to avoid catastrophe. He said the EU was currently backtracking on its commitments.
The UKIP candidate said he was concerned about the environment, but expressed concern that if the route proposed by the Green Party was taken then "the lights could go out". He said nuclear power offered us resilience, and said he was primarily driven by energy security rather than climate change. He said he was "sceptical about global warming", this phrase prompted expressions of disagreement from some, particularly younger, members of the audience.
Vicky Ford for the Conservatives said that she would like the EU to focus its efforts to reduce emissions on larger companies and said she supported the aim of a 20% reduction of Carbon Dioxide emissions by 2020. Labour's Richard Howitt interrupted to say that not all Conservatives had voted in favor of such a target. Vicky Ford said she supported both reducing energy usage and an increase in renewable energy generation.
Mr Duff for the Liberal Democrats said: "The recession is the perfect chance to green our economy".
Richard Howitt said: "If there was a choice between panic or being complacent I would chose panic". He said he, like the Conservatives, supported the 20% by 2020 target. He said there was a role for the United Nations as well as Europe in tackling climate change.
Privacy Directive
Andrew Watson of No2ID asked about the Privacy Directive.
Andrew Duff for the Liberal Democrats was first to reply, starting by saying he "grasped the question" and "shared the concerns of the open rights groups". He said settling the question was a priority.
The Labour representative said that this matter had come up while the UK had the EU presidency and Charles Clarke, the then Home Secretary had ensured it was debated by the EU Parliament and decisions were not taken behind closed doors as they could have been. He said there was "No European Side to ID Cards" and identified access to airline's passenger name records as a key area – "how deep in" ought the Americans be able to look.
Mr Bannerman for UKIP said he was worried about Government databases. He said he opposed on principle the creeping control they represented and enabled. He then drew a parallel between local councils spying on rubbish bins and "Stasi Eastern Germany", where he said "1/3 of the population spied on the other 2/3″. He said with road pricing and ID cards we would all be tracked.
Vicky Ford for the Conservatives committed to "not doing anything to further the ID Scheme". She said that on important issues like this there was a need to recognise not all the EU nations were the same. She said she didn't want to see Europol police on British streets. While at South Cambridgeshire District Council she said she had voted on a motion to oppose IDCards and ensure the council did nothing to further the scheme [That sounds a lot stronger than the Liberal Democrat motion, by Cllr Mike Pitt, to Cambridge City Council which didn't go beyond merely expressing opposition rather than taking action].
Mr Juniper said there is a need to be extremely cautious about who has power in society. He said he accepted it was no-longer possible to fight crime by intercepting letters and phone calls. While supporting progress he cautioned against the desire to automatically gather data on everyone, rather than focusing efforts more specifically.
Raising the UK's Profile in the EU
While the question was simply what would the panel do to raise the UK's profile in the EU Vicky Ford answered by saying the UK Conservatives would offer a referendum on the Lisbon Treaty, and said the Labour and Liberal Democrats had walked away from their promise to do the same. She said the 1st line in the Treaty reads: "We believe in a federal Europe". (Link to actual text, "This Treaty marks a new stage in the process of creating an ever closer union among the peoples of Europe" is the usual indicative quote cited.) Vicky Ford's statement is not a direct quote, but a subjective précis.
Liberal Democrat Mr Duff proudly stated he was the "President of the Union of European Federalists" and that he supported "strengthening the EU to act globally".
The Green spokesman spoke in favour of localism, he wanted only decisions which it made sense to make at an EU level to be made there. He cited chemical safety and environmental legislation as examples. On climate change he thought the EU had some role, but it ought be discussed even above that at a global level. He then spoke about a declining resource base in Europe, fewer fish, less soil, less water. He said he wanted to see the EU as a leader in the world.
Mr Howitt for the Labour Party said we had to relax about the fact we were part of Europe. He drew a comparison with NATO, apparently arguing that as NATO was a group of counties working together – and that had been good for the world, then the European Union was also, like NATO a positive force. He then turned to attack the Conservatives, first on their choice of parties to "sit with" in the EU Parliament, describing them as right wing extremists and then claiming their plans for a referendum were ridiculous on the basis that a no vote would involve regading on a treaty, something he said had never been done before.
The UKIP representative said he would raise the UK's profile in the EU by leaving the EU. He said he would not advocate "pulling up the drawbridge" and said trade would continue. He said he was worried by the Lisbon Treaty as it permitted further amendments to it to be made behind closed doors.
If Elected Will You Promote Fair Trade?
Labour's representative said yes. He described himself as "chair of the EU Trade committee", he accepted that his committee's record on fair trade was open to criticism, but said he was committed to fair trade deals.
Mr Juniper proposed much more EU regulation. He said the evidence the current voluntary approach wasn't working could be seen in the shops where only 1% of products were fair trade. He said he opposed EU trade policy which he said was aimed at "enriching this part of the world". He proposed a new, co-operative, approach with everyone in the world co-operating more fairly.
Liberal Democrat Mr Duff said there was flaw in Mr Juniper's plan: we'd get poorer. He said that those who would suffer most would be the poorest in the poorest European countries. Mr Duff surprisingly said he was a fan of Peter Mandelson's approach to EU Trade.
UKIP's Mr Bannerman said he believed in the concept of Fair Trade. He said the European Parliament's policy on agriculture was a disgrace.
Vicky Ford for the Conservatives said that was that "fair trade" is a tiny minority of "ethical trade" and there was a need to "think outside the label" as the fair trade label was hard to get.
EU – Israel Trade
The UKIP candidate said that if we can use trade to put pressure on then we should. However he referred to his own experience in Northern Ireland saying that: "sometimes pressure from outside can backfire".
The Conservative candidate said that it was the UK not the EU which needed to use its position as an individual country. She said: "There could be a lever in the new trade agreement".
Richard Howitt, Labour, said he had visited Gaza and described the effect of going across the border as a huge contrast, like going back in time. With horses and carts and sewage in the streets in Gaza. He said there was a need to bring information out. He said he would vote against upgrading the trade agreement and that the Palestinian Authority would not exist but for the EU and he was proud of the EU's achievements. He finished by saying we have to do more, and move to follow the USA's lead. He said there was a need to get aid in and open borders.
Mr Juniper said it would be right to use trade as a lever to influence in order to get aid in. He said there was a role for both the UK and the EU. He said that water being used to produce cheep fruit and veg for us was part of the overall problem.
Mr Duff for the Liberal Democrats said that his main concern was that the Middle East is a central challenge to European Security.
Torture
Vicky Ford for the Conservatives said: "Torture is wrong".
Mr Juniper for the Greens said: "We have to remove torture from how we do business, we have to maintain the high moral ground".
Richard Howitt, Labour, said there ought be an "absolute prohibition on torture".
Mr Duff, for the Liberal Democrats said that the EU's inquiry into torture allegations was "brave and progressive", he said he welcomed the closure of Guantanamo Bay.
The UKIP spokesman and candidate Mr Bannerman said he couldn't see any circumstances in which torture would be justified. He said that good quality information did not come out of torture in any case and said the best intelligence agents can get information out of people simply by talking to them.
Sri Lanka
This subject was raced through as time was short. Again the need for the UK government as well as the EU to attempt to influence was mentioned. Labour noted the foreign secretary had visited the country and the Conservatives pointed to the role of China in the region as another possible route for influence.
Summary Statements
Labour candidate: Richard Howitt MEP noted he'd tried to focus on his accomplishments during the hustings and wanted the electorate to hold him to account on his actions.
Conservative candidate: Vicky Ford : Vote Conservative to be part of an open flexible EU. The EU ought focus on Global Poverty, Global Trade and Global Warming. We need a free market. Now is not the time to bring in more bureaucracy.
Liberal Democrat candidate: Andrew Duff MEP : We're stronger with the EU, poorer apart. Please vote to help ensure the extremists don't get elected.
Greens: Tony Juniper (Spokesmen, Not on the Green List for the EU Parliament). Mr Juniper got straight to the point saying: "Vote Green!". He said that would be a vote for a "new world order" with "more cooperation" .
UKIP candidate David Campbell Bannerman: Get rid of Gordon Brown. According to opinion polls UKIP have a chance to beat Labour, if they do that will mean Gordon will have to go. This election isn't about electing a government, its about sending a message.
The Voting System
I didn't get called to ask a question. One I had prepared was:
I'd rather vote for an individual rather than just a party, which is all I'll essentially be able to choose from on my ballot paper. I'd also rather vote for a representative of a smaller, more meaningful, constituency than the East of England. I think you are missing out on the direct connection with the electorate. What do you make of the system?
As we are voting for parties is there anything on which you, or the candidates you represent, disagree with your party's policies?
Another possible question would have related to the UK Police's decision to ignore the European Court ruling against their indefinite retention of innocent people's records on the national DNA database. I was going to ask if this was a question they felt ought be dealt with at Westminster or at the EU Parliament and what they felt about the UK signing up for EU institutions but ignoring them when it suits.
There were no questions about reform of the EU parliament or EU institutions. There were also, surprisingly, no questions on expenses / allowances or the wider costs of the EU.
My Take
We had two diametric opposites present in terms of sitting Liberal Democrat MEP who is a federalist and UKIP who would take the UK out of Europe. While lacking polish, UKIP's Mr Bannerman came across as more credible candidate than many UKIP representatives have done.
The Labour and Conservatives appeared to largely agree on almost everything. However the Conservatives at this meeting were expressing a more Euro-skeptic view, not quite to the point of "in Europe but not ruled by Europe" but along those lines. Labour were asking for a vote from those wishing the status quo to remain, with Mr Howitt relying on his personal record, which in one of the areas he has focused, human rights, is very credible.
I felt the Green party's proposals lacked failed to take into account the realities of the world. I see myself as a bit of an idealist, but a much more practical one than Mr Juniper. If we adopt a less competitive trade policy, in a world where we've got an aggressive China fighting hard for the world's wealth and resources, we will loose out and become poorer. That means things like food and energy getting more expensive, which hits the poorest in the county hardest. If Mr Juniper's policies were enacted I believe we would run out of energy, the lights would go out. (The lights going out being the least of our problems when as without power large amounts of the country will be left without a functioning fresh water or sewage system which will lead to widespread disease, the health system will fail and much more).