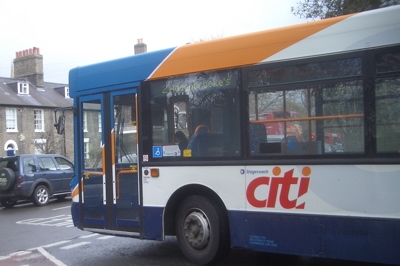 The frequency of the Citi 2 Bus to Addenbrooke's has been reduced; apparently as a result of misguided attempts to tackle climate change.
At the North Area Committee on the 7th of January 2010 Cllr Armstrong reported briefly on a meeting with Andy Campbell, Managing Director of Stagecoach in Cambridge. The reductions in the frequency of the Citi 2 and Citi 7 services, and re-routing the Citi 4 away from Milton Road in the evenings were the main items discussed. Cllr Armstrong attended the meeting along with Cllrs Boyce and Blair. She reported that Mr Campbell had told them that proposed reductions in buses were due to a need to meet emissions targets. Councillors said he "went on about that a lot" and basically said they didn't believe him. What they didn't do is pin him down on what he meant; if there is some arm of the state which is some how preventing Mr Campbell using his busses to provide a much needed service councillors really ought to have pressed him to find out what those pressures are so whichever arm of the state is responsible can be tackled and shown the unintended consequences of what they are doing.
As councillors didn't probe Mr Campbell sufficiently when they met him, I have written to him and will post any reply in the below.
Member of the public, Mr Bond, suggested that proposed cuts to bus services were due to the opening of the guided bus. He said that the notices on the busses which say: "join me on the guided bus route" were literally true. He said the busses and drivers currently serving north Cambridge would be diverted to run the new guided bus service from St. Ives when it starts.
Mr Bond described the regularly with which the city's buses bunch up and sometimes three or four operating a route can end up in the same place – resulting in waits of almost an hour for a service which is advertised as being every fifteen minutes.
Councillors also spoke of a £280K subsidy to serve Arbury Park yet buses don't enter the development. It is crucial that where we spend public money on bus services we get what we're want and the money doesn't go straight into the company profits. Councillors approving contracts need to be on-the-ball.
Councillors at the North Area Committee noted there would be a "local liaison forum" next Thursday for the guided bus. The press and public are excluded from these meetings, only invited councillors are able to attend. It was reported that the meetings will cease as soon as the bus becomes operational.