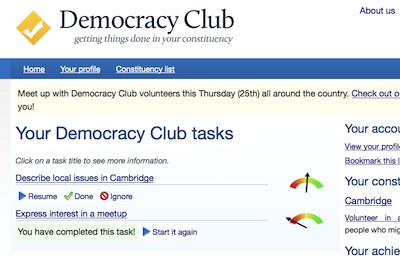 A meet-up of those interested in reinvigorating democracy and making the next election the most open and transparent ever is being held on Thursday the 25th of February from 19.30 in B-Bar, Market Passage, Cambridge. The Cambridge event, which is for those living in the surrounding region as well as city residents, is one of many to be held simultaneously across the country on Thursday evening.
Democracy Club is an independent, non-partisan, project which aims to hold candidates to account and stimulate public engagement with the next election. One aim is making it easier for people to cast informed votes by presenting candidates' positions on local and national topics along with information on who the candidates are and what they, and other people, are saying in leaflets, the internet and other media. Democracy Club will be running a comprehensive survey of candidate's views containing questions on local issues which have been researched by constituency volunteers and will also carry questions on national issues, input into which will come from national campaigning organisations, charities and other groups.
Queens' College student Tim Green is one of the core team of people behind the newly formed "Democracy Club" organisation which has already recruited around three thousand volunteers covering 637 out of the 650 UK constituencies. I think it's fantastic that a busy Cambridge student has found the time to make such a substantial contribution to a project with the potential to revolutionise this and future elections.
As I understand it the aims of Thursday's meeting will be:
To work out what the most important local issues are, so we can pin election candidates down about where they stand
To talk about holding our next generation of politicians better to account
To meet people and have a fun
The possibility of recording some video to liven up the Democracy Club site was also mentioned: perhaps people introducing their "issues" in minute or so and explaining why they're important. Feel free to discuss any other ideas for what could be done during the evening in the comments.
Key Links
City Council Meeting Nearby
Anyone in the city centre early for the democracy club meeting might want to pop into the Guildhall (just across the Market Square) where a full council meeting will be in progress from 18.00. The main item on the City Council's agenda is their budget for next year – there will be many questions for national politicians raised during that that debate; there will also be oral questions from councillors which will give an indication of some of the current local issues facing the city. For the first time on Thursday (following a long period of my lobbying) the answers to oral questions by Executive Councillors are to be "considered part of the main meeting and minuted". While I'm personally torn between the two events, and will seek to attend bits of both, the fact the council have been prodded into committing to a bit of transparency makes personal attendance at the council less critical to being able to keep in touch with what's happening. Councillors typically have a half-hour break for refreshments at about 20.00, it will be interesting to see if any come across to the democracy club event – I think one or two may be signed up.