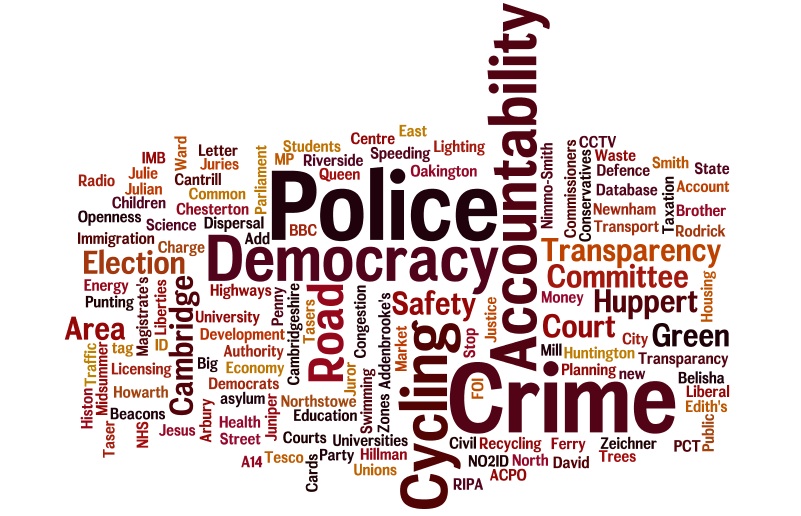 Summary
Trained scientist with experience of academic and commercial research. Currently running a bioscience company in Cambridge, UK.
Activist promoting openness, transparency and representative democracy, particularly in the field of policing, crime and justice; seeking to make Cambridge, and the UK, a safer and more pleasant place to live.
Confident making technical presentations and speaking in public.
Teaching and training experience.
Combining strong mathematical, scientific and IT skills with an interest in democracy and society.
Resident of Cambridge for over a decade, living in Market, Arbury and Kings Hedges wards.
Director of Cambridge based company, specialising in commercial applications of life-science publication, grant, and bioinformatics data.
Clients include many major suppliers of equipment and reagents to the biotechnology and pharmaceutical industry, as well as consultancies, conference organisers, and those running specialist websites.
Volunteer working on the freedom of information website WhatDoTheyKnow.com. Assisting users and helping develop and act on policies for dealing appropriately with requests to remove information from the site. Also tweeting and writing articles about the site and lobbying for improvements to Freedom of Information law.
Contributing to maintaining the voting record for MPs on TheyWorkForYou.com.
Activism, Campaigning, Lobbying, Citizenship
Previous
Cambridge Applied Polymers Ltd.
Working within the University of Cambridge for a spin-out company conducting commercial technology assessments and developing technologies for engineering functional microstructural formulations for biological materials. Working directly with major multinational clients. Appointed a Director in November 2005.
Work resulted in a patent application entitled: Encapsulation of edible oil products and encapsulated edible oil products. No. WO2007034213 (2007)
Supervisor: Small group teaching of natural science, medical, and veterinary undergraduates.
Supervision of students carrying out laboratory based research projects.
Novel formulations for complex biological therapeutics, including viruses, DNA, lipids and proteins. Working towards inhalable viral formulations with applications as gene therapy vectors and vaccines.
Working closely with Nektar Therapeutics (formerly Bradford Particle Design, and Inhale Therapeutics) on particulate biological formulation using the company's specialist techniques within their facilities, as well as with a number of companies based in the Cambridge area.
Automated aspects of Cambridge based biochemical reagent supplier's operations via integration of internal and remote databases.
Student trainer organising, promoting, writing and presenting training sessions. Promoted to supervisor in leading team of seven trainers.
Academic Publications
S. Zhai , R. Taylor, R. Sanches and N.K.H. Slater (2003) Measurement of Lyophilisation Primary Drying Rates by Freeze-drying Microscopy, Chemical Engineering Science, Volume 58, Issue 11, June , Pages 2313-2323.
Suling Zhai, Raino K. Hansen, Richard Taylor, Jeremy N. Skepper, Raquel Sanches, and Nigel K.H. Slater (2004) Effect of Freezing Rates and Excipients on the Infectivity of a Live Viral Vaccine during Lyophilization Biotechnol. Prog; DOI:10.1021/bp034362x
R.Taylor, S. Zhai and N.K.H. Slater, (2004) Functional formulations for gene therapy vectors, Presented at the 2nd Annual Biomaterials Workshop, Cranfield University, UK.
S.Zhai, H.Su, R.Taylor and N.K.H. Slater (2004) Pure Ice Sublimation within Vials in a Laboratory Lyophiliser; Comparison of Theory with Experiment. Chemical Engineering Science Volume. 60, no.4, Pages 1167-1176
J Morris, G.J.Morris, R Taylor, S. Zhai and N.K.H. Slater. (2004) The effect of controlled nucleation on the ice structure, drying rate and protein recovery in vials cooled in a modified freeze drier. Cryobiology 49, 308-309.
Education
Undergraduate
Biochemistry BSc (2:1) Imperial College London.
Final year courses: Bio-analytical Technology, Genetics and Genomics, Molecular Basis of Infection, Molecular Basis of Development.
Research Project: Investigating membrane proteins of C.difficile, a human bacterial pathogen. Carried out at the Centre for Molecular Microbiology & Infection.
Elected year and department representative. Member of Imperial College Union council for two years.
Member of a departmental Biological Safety Committee. (I have continued an interest in this field since)
Learnt to fire juggle.
School
A grade A Levels in Maths, Chemistry, Biology and General Studies.