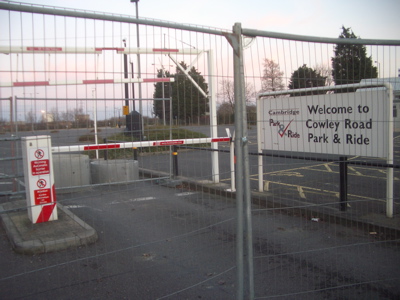 At Cambridge City Council's meeting on the 4th of December 2008 Labour Councillor for Arbury Mike Todd-Jones asked Councillor Rod Cantrill the Executive Councillor for Customer Services and Resources an oral question:
Following the move of the Park and Ride from Cowley Road to Milton, can he assure the hundreds of regular users of the weekly weekend Cowley Road car boot sale that there will be a site for the event to continue?
Cllr Cantrill was not able to provide the assurance Mr Todd-Jones was seeking, he also didn't explain why the current site could not be used for the car boot sale until it is put to another use. The site is owned by Cambridge City Council. Cllr Cantrill noted that he had to consider the loss of income to the council from not renting the site to the car boot sale but didn't explain why he was not doing this. He said council officers would be prepared to discuss the options with the car boot sale operators, including the possibility of using the new park and ride site, or part of it. Though the new site operates on Sundays, and traders have now been told the market is closed for good.
Many have commented that the loss of the car boot sale is particularly badly timed as we are going into a recession, as it gives opportunities for traders to gain additional income and for buyers to find bargains. The council should not be discouraging such positive economic activity in the City. I cannot see why the old park and ride site cannot be used for a car boot sale until another use is found for it. The operators of the car boot sale could be required to tidy and re-secure the site after use as part of their rental agreement.
We have not had much clarity from the council, we do not know why has an arrangement with the car boot sale operators not been reached. Were the operators seeking a lower rent, or the council seeking a higher rent than had previously been charged? Without such open explanations people are left wondering if Cambridge City Council simply opposes the idea of a car boot sale.