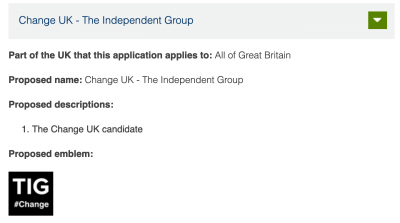 On the 9th of April 2019 I wrote to the Electoral Commission suggesting they reject the application to register "Change UK – The Independent Group" as the name of a political party.
I think it's really important people aren't misled into voting for party politicians thinking that they're independent.
I wrote:
The registration of this party name would be likely to result in an elector being misled as to the effect of their vote, so the application should be rejected under section 28(4)(da)(i) of the Political Parties, Elections and Referendums Act 2000.

The use of the proposed party name is likely to mislead a voter who may consider a candidate standing under the party name to be independent from any political party, rather than a member of a political party.

The registration of the name "Independent Party" would not be permissible under regulation 2 of the Registration of Political Parties (Prohibited Words and Expressions) Order 1998.

The purpose of the prohibition on registering the "Independent Party" is presumably because it could mislead voters into thinking they were voting for an independent candidate. The registration of a party with a name ending with, in an unqualified manner: "The Independent Group" has the potential to be much more likely to mislead people into thinking they are voting for someone who is not a member of a political party than the name "Independent Party" as the latter contains the word "Party".

Prefacing "The Independent Group" with "Change UK – " does not detract from the potential for confusion.

The phrase "Independent Group" is oxymoronic, but is widely used to describe a group of elected representatives who are not party members, so it would be confusing to voters to use this phrase, in an unqualified manner, as a party name.

Party registration applications have previously been accepted for:

St. Neots Independent Group
East Lindsey Independent Group
Bath Northeast Somerset Independent Group (BIG)
Barnsley Independent Group

these names have the potential for confusing voters, and voters might think they are voting for a non-party candidate if they appear next to a candidate name. Any errors in acceptance of previous registration applications should not impact the decision in relation to this application.

The proposal in this instance has the potential to cause greater confusion than any of those registered as it does not relate to a specific place, and the impact is likely to be greater as the name is therefore likely to be used over a wider geographical area – the potential for a significant impact of making the wrong decision in connection with this application should prompt the Electoral Commission to consider this application particularly carefully.
There is a form for submissions on the Electoral Commission's webpage listing current applications for proposed party names, descriptions or emblems.