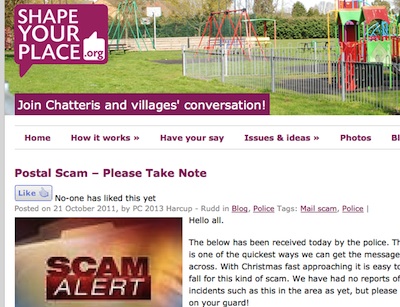 Cambridgeshire Police are yet again alarming people by distributing a scam email.
A hoax chain email has recently been circulated by Cambridgeshire Police. The message warns those calling a number on a bogus parcel delivery card will get charged £315 for the phone call.
The misleading message has recently appeared on various local websites around Cambridgeshire including on the 3rd of November 2011 being placed on the neighbourhood watch section of the Graveley Village website and has even been posted by Cambridgeshire County Council on the March section of the ShapeYourPlace.org website, the latter posting appears to have been based on information provided by PC 2013 Harcup-Rudd of the Chatteris and Manea Neighbourhood Policing Team and was accompanied by the Cambridgeshire Police logo. PC Harcup-Rudd posted it himself in the Chatteris section of the site.
The alert is nonsense; the Cambridgeshire Police have been spreading mis-information.
The number quoted starts 0906 66 and is a charge rate p0 premium rate telephone number which costs just over £1.53 per minute to call from a BT landline phone.
The suggestion that by calling and hearing the start of a recorded message you will be "automatically get charged £315.00″ is therefore not accurate.
The police really shouldn't be distributing material like this without checking it. I am very concerned that we have constables like PC 2013 Harcup-Rudd who apparently can't spot a hoax scam, and who appear to have failed to investigate something before distributing it.
Crimestoppers Warning
Crimestoppers have published a page on the scam stating:
This email is a hoax and the information contained in it is not true. If you receive this information please ignore it.
They note:
The chain email refers to a service (operating on 0906 661 1911) that was shut down by PhonepayPlus (then ICSTIS) in December 2005. PhonepayPlus subsequently fined the company that was operating the service, Studio Telecom (based in Belize), £10,000.
The service is NO LONGER running and has NOT been running since December 2005.
You do NOT need to contact PhonepayPlus, or the Royal Mail, about this service as it was stopped almost six years ago.
Past Similar Cases
Cambridgeshire Police have previous for this kind of thing. On the 28th of August 2008 PCSO 7152 Louise Walbank urged residents of North Cambridge to participate in forwarding a hoax message she had been scammed by herself; her message said:
If you receive a phone call on your mobile from any person saying that he or she is a company engineer, or telling you that they're checking your mobile line, and you have to press #90 or #09 or any other number, end this call immediately without pressing any numbers.

There is a fraud company using a device that once you press #90 or #09 they can access your 'SIM' card and make calls at your expense.

Please forward this message to as many colleagues, relatives and friends as you can, to stop it.
Another similar thing occurred when the police issued warnings about a non-existent new drug, "strawberry meth".
Why This Matters
I believe this kind of mistake damages the credibility of the police. If the Cambridgeshire Police regularly pass on false alerts then they are less likely to be believed if they ever have something important to pass on to residents of Cambridgeshire.
If Cambridgeshire Police can't even spot a hoax like this; what hope have they got of detecting and bringing to justice those responsible for a real scam? I think this shows that we need to get smarter police officers.