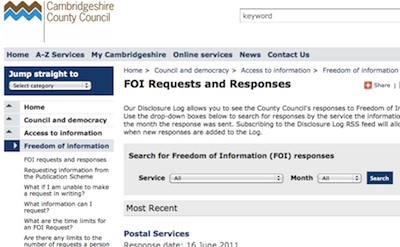 On Thursday the 19th of May 2011 I visited Cambridgeshire County Council's offices with Kings Hedges councillor Andy Pellew. Cllr Pellew had heard that the council were developing their own version of mySociety's freedom of information website, WhatDoTheyKnow.com and on asking what was going on had been offered a meeting with the relevant officers. Cllr Pellew invited me as he knew I was a volunteer working on WhatDoTheyKnow. The concern both I and Cllr Pellew had was that public money might be being spent replicating a system which already existed and was available for the council, if they wished, to point people to at no cost to the taxpayer.
When I arrived Cllr Pellew was drinking tea in the members' lounge which is above the main entrance overlooking the lawns and castle. We were met there by a council officer and taken to "Babbage House". I was surprised to discover that as well as the main county hall building, the octagon building and the building behind that the council also have offices in a number of the other Castle Park blocks.
Even on the walk over to the office we found out that in essence there was nothing to worry about; and the council wasn't actually planning to replicate WhatDoTheyKnow as rumoured. Quite why they didn't just tell Cllr Pellew this when he enquired I don't know, but we headed on anyway to meet up with some of the council's web and FOI officers.
We were told that the new council system which had prompted the rumour was a new disclosure log system, and a back end system for managing the process of responding to FOI requests within the council.
Interestingly, despite the system for publishing the responses online being the same as the one used to manage the request internally, we were told publication online does not occur at the same time as the response is issued to the requestor. There is a further step involved, in which the correspondence exchange is referred back to the department which generated the response, asking them which elements of the correspondence/response ought be made public, separating out any personal information, and "checking the response is well formed for public consumption".
I queried this and was told that in the future publication might well be done simultaneously. (A response to a request sent via WhatDoTheyKnow.com is published online automatically as soon as it has been received). The possibility of just sending requestors links to the disclosure log rather than attaching documents to responses was also raised.
One nice feature of the council's system is a short hand crafted summary of the request and response, for example the latest FOI response at the time I'm writing this is summarised as:
Q1. Approximate postal items sent in 1 day across the authority A1. Approximately 3000 items posted per day
We were told that the council's FOI requests, in the main, reflected decisions before the council. A graph showing requests over time was shown to us, with peaks corresponding to things such as proposals to cut/reorganise library provision and other contentious matters. Requestors were generally seeking information so that they could make an informed contribution to the debate.
The council's system for dealing with, and publishing, FOI requests was written in-house as a Microsoft Sharepoint web application. No justification for this choice of technology platform was offered.
Some screens from the internal system were shown to us, one thing I noted was that each request had many fields eg. to record the details of which exemptions had been used to justify withholding material but in the cases we were shown these were not in use.
We were told about the process of responding to an FOI request, one of the surprising elements was that not all council staff are able to produce PDF documents and that was something the central team had to do for them.
We were told that the new computer system had resulted in a substantial speeding up of the average time for responding to an FOI request from 13.5 days, down to 10.5 days for the latest statistics when we visited, and we were told the previous week FOI requests had been dealt with in an average of around 5 days.
We were told the council's new online FOI request form wasn't integrated into the new system. They said they wouldn't have a problem with linking to WhatDoTheyKnow to offer another route for making an FOI request for those who wished to have the whole correspondence train made public.
Cllr Pellew and I were told the council has clear lines as to what is a press query and what's an FOI request. We were told the disclosure log was to be comprehensive in the future (I suggested this be made clear on the page) and that officers were putting some older releases up too.
We asked if the council was planning to sell its new system; the response was this hadn't been considered, but the currently trendy thing to call it would be a "shared service" and to offer it to other public bodies in the area. Any public bodies without an disclosure log could already, and for free:
Point requestors to WhatDoTheyKnow – and the request, correspondence and response will be made public.
Generate depersonalised copies of requests within the WhatDoTheyKnow system and post responses.
I'm sure mySociety would be interested in authorities wanting a more integrated / tailored / feature rich experience of using WhatDoTheyKnow.
We were also told about the council's website as a whole, officers said they were trying to make "tasks" more prominent and news less so. They reported that the items pulled into boxes on the top of the page were based on analysis of what was popular based on the web statistics.
I agreed to put a note on Cambridgeshire County Council's WhatDoTheyKnow page linking to their new disclosure log, and I pointed out that WhatDoTheyKnow prompts users to check the information they're seeking isn't already available before making a request. I also let them know that the WhatDoTheyKnow team was happy to re-send any requests if they had got lost within the council's systems and suggested whitelisting WhatDoTheyKnow to stop spam filters interfering with communications.