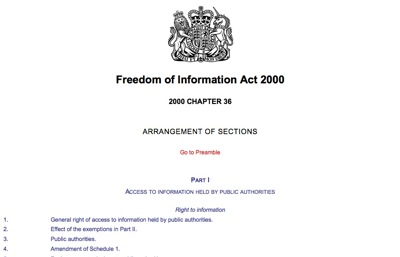 Cambridgeshire Police provide a "disclosure log" on which they list selected freedom of information requests they have received, along with the responses they have given. There are currently two such lists on the force's website. One of which is well indexed in Google and appears not to have been updated so far this year; the other, part of a new website-redesign contains responses made right up to the current month:
Anyone viewing the old version of the page will be given the impression the disclosure log is no-longer updated, though both pages are clearly front ends for the same database. Having recently discovered the new page, I have been reading through some of the information released. The PDFs provided are protected such that normal software prohibits people from copying and pasting information out of them, that has not deterred me from pulling out the following (the source links are to PDFs on the police website containing further information):
Payments to Police Informants
In 2008/9 Cambridgeshire Police paid £107,615.79 to informants (Source).
Cambridgeshire Police had just a few weeks earlier rejected a request for informant costs (Source).
ANPR Images
Over 30 million Automatic Numberplate Recognition images were taken by the force in 2008. Of these 174,587 matched "vehicles of interest". (Source).
Strawberry Fair Policing
The police estimate it cost them £81,000 to police the Strawberry Fair in 2008, they used 252 officers and staff. (Source).
TASER Training
Cambridgeshire Officers who are to be issued with TASERs get six hours training, this is followed up with a 30 minute refresher every six months. (Source).
Performing Rights Society for Music
The force paid £4628 in 2008/9; presumably for its officers to listen to music on the radio at work? (Source).

Classic FM gave a digital radio to a Custody Sergeant at Huntingdon (Source).
TASERs
Cambridgeshire Police have 173 TASERs, including the 150 they have just taken from the Home Office for issue to non-firearms officers. They have twice tried to shoot dogs with them in separate incidents. They hit one dog and missed the other. Whether they enraged, subdued or killed the dog they hit is not recorded.
(Source).
Immigrants Held In Police Cells
The police refused to answer a question on how many immigrants they held in detention. They did reveal though that the Home Office had paid them £244,804 for holding immigrants. (I have made a freedom of information request to the Home Office for comprehensive statistics on the numbers of immigrants detained, and how long they are being held).
(Source).
Response Times
In 2007/8 it took the force an average of 12 minutes to get to a 999 call, in 2004/5 it only took 9 minutes.
(Source).
Police Vehicles Issued with NIPs for Speeding
The Police refused a request asking how many of their own vehicles had received notices of intended prosecution for speeding. I believe the response to this request is flawed, as it says the force would have to go through all those tickets it sent out to calculate the number. The officer responding clearly didn't consider they could instead look at those which had been received by the force. (Sending NIPs to the emergency services when they have blue lights flashing is crazy and creates a lot of unnecessary work for police officers, paramedics and I presume firemen. I think they ought be torn up at the earliest opportunity if it is clear the vehicle is on an emergency call) (Source).
Punt Wars
Details of offenses relating to feuding between rival punt operators have been detailed in the response to an request. (See also this article on punting) – (Source).
Gifts to Officers – 2007 and 2008
Some highlights:
A Mr Silcock gave Sgt. Hurst 20Kg of Celery
Roy Abrams, a member of the public, and PC Jason Smith, an air observer were given two bottles of Bollinger Champagne and a bottle of port by John Dickie of the Energy Park, Peterborough.
Police Camera Action gave the Air Support Unit twelve bottles of wine, one each for the staff.
Eddie Barcan of Cambridge City Council gave PC Trevor George and his family a view of a firework display from a hospitality marquee
Vending Company gave uniformed officers in March Police station 25 twix bars
John Reynolds, County Councillor and member of the Police Authority, was given a trip to Sweden by Ford cars to see "renewable energy systems for cars".
PCSO Jill Tiernan was given a large bunch of grapes by a Mr Childs.
A Mr Lloyd Legister gave PCSO Daniel Grant : "Steak and kidney pie and chips chips and sausage" [sic].
The Chief Superintendent of the Irish Police gave the Assistant Chief Constable a crystal fruit bowl for the force headquarters.
Iomart gave a database administrator a "Norway Spruce in a polytube". (20cm, worth £3)
Anthony Condon gave PC Baker 4 tins of Baxters Lobster Bisque soup and a packet of fudge
~17 bottles of wine and ~26 boxes of chocolates were given to officers and staff
No one gave PC Hinks or Sgt. Wragg any gifts.
The police accepted all the gifts they were offered.
(Source).