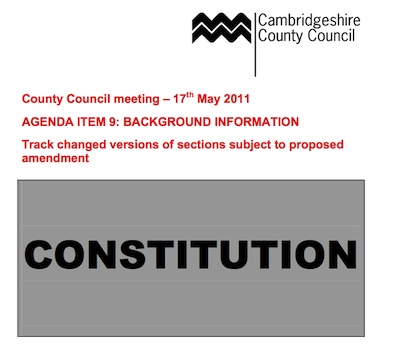 Proposed amendments to Cambridgeshire County Council's constitution have been published today, just one day before they are to go before a meeting of the full council on the 17th of May 2011.
The amendments have been put forward by Councillor Nick Clarke, who was recently elected leader of the ruling Conservative group on the council, and as such is almost certain to be elected the leader of the Council during the meeting on the 17th.
I am concerned that many of the changes appear designed to reduce the effectiveness of full council meetings as a place where councillors can hold members of the cabinet to account. It introduces substantial restrictions on the subjects of questions which can be raised, as well as limiting the time available for questions and capping the number of written questions.
Mr Clarke has not explained the reasoning behind his proposed changes. He may be seeking to streamline, and speed up, full council meetings, but by doing so he is taking power away from councillors who are non-cabinet members and making it less likely such councillors will be able to ask the questions they want to ask on behalf of their constituents at full council meetings. If Mr Clarke was to improve the opportunities for all councillors to get involved in policy making at an early stage, and give them an opportunity to engage in detailed scrutiny at committees he would, naturally, reduce the burden on the full council. He's going about things the wrong way though, rather than encouraging discussion of matters outside full council by improving the other routes; he's starting by reducing the opportunities the full council offers councillors.
My Comments on Key Proposed Changes
Full council meetings are to include a session for questioning those councillors the council has appointed to represent them on the county's Fire & Police authorities. I think this is an improvement and it's important that the council holds these people to account for what they're doing on behalf of the people of Cambridgeshire. I hope that from time to time others such as the chair of the Police Authority, the Chief Constable will also attend the full council and take questions from councillors and the new provisions will be in addition to that.
The full council is only to get recommendations from Cabinet meetings and committees not full reports. This may well restrict what councillors can ask questions on.
The highly controversial "Policy Development Group" meetings are to be scrapped. These enabled councillors, on a confidential basis, to participate in policy formation. Liberal Democrats (including almost all of those representing Cambridge residents) abstained on principle as they didn't want to have their say in secret meetings based on documents they were forbidden from sharing and discussing with their constituents. It is great they're being abandoned, however they are to be replaced by: "Informal Advisory Groups" and it is not clear if "informal" means the secrecy will continue. Ex-councillor Rupert Moss-Eccardt has suggested, via twitter, "informal" means expenses and "fact finding" trips will be in the gift of the convenor.
P.170 of the "track changes" document showing the proposed amendments describes what councillors will be able to ask questions on at full council meetings. I think the punctuation here makes it very unclear what can and cannot be asked. Can questions only be raised at full council if they've already been raised at a Cabinet or Committee meeting?
There are sixty-nine councillors at Cambridgeshire County Council but the changes proposed by the ruling group include limiting written questions to thirteen per full council meeting. The allocation will be shared out by political parties; seriously reducing the power of individual members to hold cabinet members to account. Party members will be effectively reduced to asking questions on behalf of their parties – as they'll be using the party allocation. More independent minded members of parties (and those who've fallen out with party bigwigs for whatever reason) may not get a look in.
Setting on street parking charges is to be taken away from local councillors on the Traffic Area Joint Committees. In Cambridge this means these charges will no longer be set by local city and county councillors, but (presumably) by the representatives from elsewhere in Cambridgeshire who make up the ruling group.
A positive and common sense change is the removal of the provision which required the full 250 page hard copy of constitution to be sent to all councillors. Now they won't get one unless they ask and the standard procedure is for a link to be emailed.
Scrutiny committees are to be renamed "Overview and Scrutiny Committees". It isn't clear to me how this is any more than just a name change, and what if anything the addition of "Overview" is intended to signify. There is no requirement for chairs of scrutiny committees to be opposition members, or for any rotation/balance to be present among the chairs to ensure all non-cabinet members are able to influence how the scrutiny committees work and what they get to discuss.
The Head of Democratic and Members' Services becomes the County's Returning Officer
Membership of the "Overview and Scrutiny Management Group" includes "two Conservative lead members". This kind of thing ought not in my view be in the constitution; the constitution ought be a set of rules which functions regardless of who is elected to the council and which parties they're members of.
As far as I can see the council's constitution can be changed by a simple majority vote of the full council. I think this is wrong. Substantial changes to the way democracy is conducted in the county should only be made with broad support from the full spectrum of elected members. I am surprised there are not already safeguards in place to prevent the kind of antics being proposed by the ruling group to entrench their power and make it harder for those seeking to question what they are doing.
Publishing major changes like this, just a day before councillors are to be given the opportunity to debate them and vote on them shows an astonishing lack of respect both for opposition councillors, and for the people of Cambridgeshire. With these, as with other proposals, there is a need to publicise them well in advance so that those interested can read them, and let their representatives know their views on them.
Labour Cllr Tariq Sadiq (Coleridge) has tweeted to say he is to be on BBC Radio Cambridgeshire at 8am on the 17th of May discussing the proposed changes. Cllr Sadiq's tweet described the changes as "rushed and undemocratic".
I will write to my own County Councillor, Paul Sales (Labour) pointing him to my views as expressed in this article. I will also tweet in the direction of those Conservative members on twitter inviting them to comment, and perhaps justify, these changes.