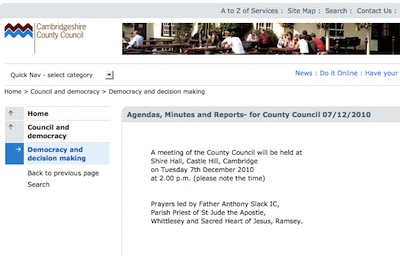 I observed Cambridgeshire County Council's Full Council on the 7th of December 2010.
The meeting was, as I had predicted from the sparse agenda, rather devoid of substantive content. The 450 jobs to go and £161 million cuts at the council which were reported in the media two days after the meeting were not mentioned at all, beyond a couple of very brief exchanges on youth provision and public health.
Points
(I won't go so far as to call them either "key" points, or "highlights")
The Council Cabinet member responsible for the private finance initiative to renew and run the county's streetlights was asked about the project's costs. Conservative Cllr McGuire replied: "I've had figures thrown at me but they differ; I'll come back when I've established it".
Liberal Democrat Councillor Sarah Whitebread had put down a motion calling for the council to "invest smartly in CO2 reduction". A Conservative amendment was proposed, and passed, which resulted in the word "smartly" being dropped.
It was reported that the council has 6100 tonnes of grit left and that they use 200 tonnes per "run". The council is relying on a new delivery of grit they hope to receive in January. (I don't think this is a resilient approach and think they ought stockpile what they need before the winter).
The new Cambridge quad bike gritter has been out on only five of the sixteen times so far this winter there has been a gritting "run". (This appears to show a continued lack of support for cycling in Cambridge by the County Council despite the headline grabbing new bit of kit).
Cabinet member, Conservative Councillor John Reynolds, told his fellow councillors they have to be nice to their divisional surveyor to get potholes fixed and approved minor works actually done.
Leader of the Liberal Democrats on Cambridgeshire County Council, Cllr Whelan, said details of the council's budget needed to be announced to allow parish councils and area committees to set the level of their precepts. (Area committees do not raise taxes via precepts like parish councils can).
Cabinet member Conservative Cllr McGuire showed an astonishing lack of awareness as he told the council he was unaware that volunteer drivers are not on the Addenbrookes Road whitelist.
It was reported that there is no functioning traffic Area Joint Committee functioning in East Cambridgeshire. The County Council Cabinet (which doesn't include any elected councillors from East Cambridgeshire) and officers are filling the gap, but there is no localism and no local democratic accountability. East Cambridgeshire District Council were blamed for failing to appoint councillors to sit on the committee. While at the meeting Cabinet members were apparently unaware of the reason, the County Council's press office responded to my live tweeting to explain saying: "We understand ECDC is planning to use the publicly open Neighbourhood Panels to engage the public in highway improvements". If so and their unilateral action has been successful in prompting the County to allow this that's excellent and something to push for in Cambridge too.
At a number of points councillors complained that facts they wanted to debate were being classified as confidential by the council. At one point a Conservative Councillor raised a point of order complaining Liberal Democrat Cllr Van der Ven had referred to a secret workshop on the "big society". Cllr Van der Ven had to retract her statement and refer instead to a public Cabinet meeting where the same information had been presented. One of the figures debated, but which councillors said couldn't openly disclose was figure for amount of youth cuts. The Conservatives running the council appear to revel in their power to classify information as confidential and restrict debate on it. (They even classified their draft gritting plans as highly confidential a couple of months ago).
Liberal Democrats representing Cambridge City asked the ruling Conservatives to reconsider their proposals not to grit Cambridge City Centre when grit stocks get low. They also asked for Riverside to be gritted routinely. Ruling Conservative Cllr McGuire showed contempt for Cambridge residents dismissing the views of the city's elected representatives by simply saying: "We can't do everything".
Councillors debated the level of the heating in Shire Hall for about an hour.
Liberal Democrats and Labour councillors argued against youth support service cuts, suggesting that without youth clubs kids will turn to crime/arson. When challenged by Conservatives who said they were being unduly negative about the county's young people they backtracked and denied saying what they'd just said. A councillor asked if £1m was to be cut from the youth service budgets (as the figure is "confidential" this was neither confirmed nor denied).
Green Councillor Simon Sedgwick-Jell asked if the council would write to the government protesting about the loss of the Education Maintenance Allowance. Interestingly, and oddly the response was: "we will do if needed".
Cllr Wilkins asked cabinet member Cllr Yeulett about "block contracts for residential care". Cllr Yeulett said all was on track. Cllr Wilkins said "that's not what I've heard" and asked him to investigate.
Something about a new bridge over the A14 paid for by S.106 funds was mentioned in passing. Google suggests this is probably the B1049 Histon Road junction with the A14.
Cllr Moss-Eccardt picked up on a slip by a cabinet member and asked for an assurance that while councillors were delegating powers they were not delegating responsibility. This question flummoxed council leader Jill Tuck and she had to be helped out by one of her colleagues who gave the assurance and correction sought: that while powers were delegated to officers responsibility wasn't.
Cllr Moss-Eccardt asked why 1 in 5 FoI requests to the council were not responded to in time. The response suggested more resources would be needed to improve things. Cllr Moss-Eccardt responded suggesting issuing an FOI response ought usually be as simply as pressing a button if the council was well organised.
Cllr Wilkins complained the council was rubbish at collecting and using developer's contributions for new schools. This was in the context of a question on a secondary school for Cambourne.
Speeding in villages was briefly discussed, as was a "public health" and the need to focus on prevention of health problems.
New double yellow lines next to the guided bus / cycle way in Histon were mentioned; and the need for them questioned given the fact the guided bus way is not operating. They are reportedly causing problems for customers of the convenience store.
Ex. Liberal Democrat now independent representative of Petersfield in Cambridge, Cllr Harrison, was present, sitting with Labour, UKIP and Green members. She did not speak during the meeting and left early.
Climate Change Motion
Cllr Sarah Whitebread proposed the only motion of the meeting. Her main point was to ask the council to invest in "carbon reduction" to save money, particularly money which she predicted would otherwise be taken from the council due to carbon taxes.
Clearly investing money to save energy is a good idea; and Liberal Democrats running Cambridge City Council have shown this to work. The problem with the Liberal Democrats though is they conflate this rational and common sense approach with scaremongering about climate change.
Cllr Whitebread spoke at the 2010 Liberal Democrat conference saying that it was environmentalism which drew her into politics. She represents market ward in Central Cambridge yet was absent, without explanation, from the key meeting of the West/Central area committee which approved tree works on Midsummer Common – one of Cambridge's major green spaces which is entirely within her ward, so her environmental focus clearly isn't local and appears to be global.
The motion prompted the council to produce a 17 page report. This isn't, as far as I can see, published online. Not even in the section of the council's website for: "Pre-Meeting Reports". Many councillors brandished the report during the meeting. The Liberal Democrats accused the Conservatives of not having read it, with one Lib Dem saying all her party colleges had all read it. One of the Lib Dems clearly hadn't been listening as when they came to speak they complained the report was too long and complex and said they hadn't read it and was surprised to find the chamber laughing at him. Clearly the council ought be publishing documents like this online.
Cllr Whitebread and her Liberal Democrat colleagues managed to really wind up the Conservatives (and UKIP councillor Pete Reeve) by talking about saving the planet. During her speech introducing the motion Cllr Whitebread was jeered and laughed at by the Conservatives. Her fellow Lib Dems later questioned during debate if the minutes of the meeting would be "brave enough" to note the jeering.
Liberal Democrat Caroline Shepherd stated during the debate that she had been up at 6am playing tennis.
Cllr Brooks-Gordon was, as usual, particularly emotive, she called on councillors to support the motion to "prevent climate chaos in Cambridgeshire". She really is bonkers if she thinks changing the council's own central energy usage (eg. using more video conferencing rather than driving) is going to have any detectable effect on the county's climate.
Cllr Pete Reeve was particularly irked by the Liberal Democrat claim their motion was an attempt to act against a "threat to life on earth".
Cllr Whitebread alone would, I suspect, have probably been able to win her argument. However she to a degree, and her fellow Liberal Democrats strayed well away from the substance of the motion and too far into the dramatic nonsense.
Conservative Cllr Orgee responded for the Conservative ruling group. He showed some sense when he tried to give examples of where the council could have much greater effect outside its own internal energy usage by affecting others. He picked poor examples though talking about changes to waste vehicles and reducing methane production at a waste plant. Cllr Moss-Eccardt pointed out these were items with minimal effect, not least as the methane was being used to produce energy.
Cllr Whitebread claimed carbon taxes could well end up costing the council £2m a year. Conservatives suggested that if this happened it would be the fault of the Liberal Democrats in Government pushing to introduce such taxes.
The emotional and irrational view taken by the Lib Dems was shown by the fact that when the Conservatives amended the motion; but retained its key thrust, they voted against it in protest at the fact it had been amended at all. So the Lib Dems, including Cllr Whitebread, actually ended up voting against investing in CO2 reduction measures to reduce the cost to the council and against continuing to take action to cut emissions and provide appropriate performance information on a regular basis.
Cllr Moss-Eccardt explained his vote against the motion as amended by the Conservatives saying it said: "Hurrah we're doing nothing. Hurrah we don't care".
Votes on the Conservative amendment and the amended motion were passed 35-22 and 35-21 respectively with the Conservatives in the majority and the chair and vice-chair abstaining.
General Experience
On trying to enter Shire Hall I was faced with locked doors. I pushed the button for entry (and stood back) as the sign on the automatic doors requests, but nothing happened. Shortly afterwards someone came out and I was able to go in. I had to give my name to the reception desk and sign in. I said I was present to observe the council meeting, but wasn't directed to the public gallery. I entered the chamber after the prayers and while the declarations of interest were being taken. Andy Allsopp the council's Head of Communications invited me to take a seat at the press desk which is at the back of the room, just behind the outer horseshoe of councillors. From where I was sitting I could see and hear proceedings very well (which isn't the case at all from the public gallery). Mr Allsopp gave me a copy of the agenda, written Q&A, and other documents including the council's debate rules.
Shortly after I sat down the council officer who sits next to the chairman leapt down from the daius and hurtled towards me; I suspect he was going to throw me out (or up to the useless public gallery) but Mr Allsopp intercepted him and fended him off.
Mr Allsopp was very welcoming, he even offered me water later in the meeting, but the whole set-up is still pretty public-unfriendly. The meeting went on beyond working hours, and beyond the time the reception desk was manned.
See Also