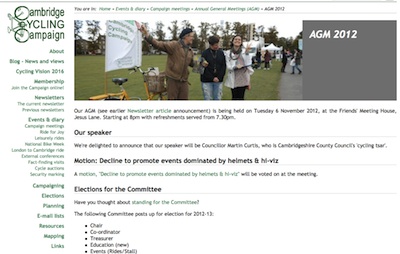 On Tuesday the 6th of November 2012 I observed the Cambridge Cycling Campaign AGM.
Helmets and High Visibility Clothing
The meeting passed a motion allowing the campaign to reserve the right to decline to promote events where the use of helmets and high visibility clothing is required or implied to be required. The motion was passed by 44 votes to 10 with 6 abstentions
The text of the motion passed is:
"Cambridge Cycling Campaign supports all cyclists as they go about their lawful business on the public road. We note that the law does not require helmets or high visibility clothing. The image of cyclists presented to the public has become so strongly skewed towards riders wearing those items that the legitimacy and status of those who do not wear them is being undermined. In order to help restore the balance the campaign reserves the right to decline to promote events or activities where helmets or high visibility clothing are required or implied."
The motion was debated, the arguments in favour are those outlined in the motion; arguments made against the motion included:
The Royal Society for the Prevention of Accidents and the British Medical Association recommend the use of helmets when cycling, and therefore insurers of events might well do to, and who is the Cambridge Cycling Campaign to seek to suggest to event organisers that they ought ignore the advice of these professionals?
Would the Campaign still support the You Can Bike Too project, which [it was said] requires people to wear helmets to cycle around Milton County Park?
There were also questions about the impact if the motion was adopted as policy. The mover of the motion Simon Nuttall said it was about publicity, which the motion had already obtained, and about campaigning. It was noted that even the act of the campaign questioning those involved in cycling activities about the impression they're giving about cycling requiring helmets and high visibility clothing might help promote change.
Cycling Tsar Cllr Martin Curtis
The County Council's cycling Tsar, Martin Curtis, was the meeting's guest speaker.
I tweeted the key elements of the presentation and subsequent Q&A session live:
My Other Tweets from the Meeting
(Click the date to view the original tweet, and any conversation)
@RTaylorUK Cambridge Cycling Campaign AGM tonight. Guest speaker @CambsCC's cycling Tsar @CllrMCurtis . Open to all (I think) http://t.co/u9Jr12nr – Tuesday Nov 6 2012

@RTaylorUK Postcards pre addressed to @CambsCC's Cllr Bates @camcycle AGM #live Lobbying for Ring Ft path http://t.co/lFdJvlsA http://t.co/gIKVOQTO – Tuesday Nov 6 2012

@RTaylorUK Also postcards to lobby for the Chisholm Trail @camcycle AGM #live http://t.co/sogEUct1 – Tuesday Nov 6 2012

@RTaylorUK Cllr @iangmanning says #libdem meeting Cllr @swhitebread chose over @camcycle AGM #live is not an official meeting – Tuesday Nov 6 2012

@RTaylorUK 100 or so people here at @camcycle AGM #live Cambs Cycle Tsar @CllrMCurtis about to speak. – Tuesday Nov 6 2012

Apologies acknowledged from MP @julianhuppert – @camcycle AGM #live
Broad political spectrum here at @camcycle AGM #live from Cambridge Socialist @WoodcockTom to Tory @andybower
Andy Bower @andybower has joined @camcycle tonight. Despite reservations about their 20 mph limit policies. @camcycle AGM #live
@RTaylorUK Case for a campaign employee being drawn up to present to possible funders. @camcycle AGM #live – Tuesday Nov 6 2012

Chair Martin Lucas-Smith giving his annual "State of the Union Address". @camcycle AGM #live Major planning apps on the up.
Expand
Important not to do city wide 20mph limit on cheap says Martin Lucas-Smith. Not just signs, but boundry features. @camcycle AGM #live
1st Tuesday of December, presentation on proposed new cycle park at Cambridge Station at @camcycle monthly meeting.
Campaiging on new high quality cycle route. Newmarket Rd to Newnham. East Rd wide, space for Dutch quality provision. @camcycle AGM #live
Greater calls for Dutch quality cycling infrastructure this year says Martin Lucas-Smith. @camcycle AGM #live
Times #cyclesafe brought cycle campaigning to front page of newspaper many of our MPs read. Martin Lucas-Smith @camcycle AGM #live
Martin Lucas-Smith notes @camcitco cut cycling officers; no evidence other planning officers trained in or working on cycling- @camcycle AGM
@RTaylorUK Charity Accounts being presented @camcycle AGM #live Small surplus over the year, ~£15k in bank. Lots of resigned members still pay subs. – Tuesday Nov 6 2012

@RTaylorUK Lots of people paid for membership at Mill Rd fair and other events but didn't complete sign-up as members online. @camcycle AGM #live – Tuesday Nov 6 2012

@RTaylorUK HMRC to allow gift aid claim without gift aid declarations. @camcycle AGM #live told – Tuesday Nov 6 2012

@RTaylorUK University RAG donated £200 @camcycle AGM #live told, not told which uni. – Tuesday Nov 6 2012

@RTaylorUK Printing and posting newsletter is largest expense. @camcycle AGM #live More adverts needed. – Tuesday Nov 6 2012

@RTaylorUK Volunteer from outside ctte wanted to informally audit the accounts. @camcycle AGM #live – Tuesday Nov 6 2012

@RTaylorUK Some reserves to be spent on producing publications on policy matters. @camcycle AGM #live – Tuesday Nov 6 2012

@RTaylorUK Royal Mail PO box became uneconomical as prices rose @camcycle AGM #live Now have box at Cam volunteer bureau – Tuesday Nov 6 2012

@RTaylorUK @IanGManning 3rd, at least I'm younger than Andy. Also a couple of others around our age. Most older tho, I'd say 15% female. @Puffles2010 – Tuesday Nov 6 2012

@RTaylorUK @MrNeilB They are on the web. @camcycle – Tuesday Nov 6 2012

@RTaylorUK Motion to reserve right not to promote events/activities where helmets or high-vis are required or implied PASSED 44-10 @camcycle AGM #live – Tuesday Nov 6 2012

@RTaylorUK Cllr @IanGManning abstained on motion on helmets/high vis and called for abstainers (6) to be counted. @camcycle AGM #live – Tuesday Nov 6 2012

@RTaylorUK Ex Cllr @moufflon standing for committee post (general campaigner). @camcycle AGM #live – Tuesday Nov 6 2012

@RTaylorUK Chair, co-ordinatior, treasurer and more offering to re-stand uncontested. @camcycle AGM #live – Tuesday Nov 6 2012

@RTaylorUK Uni student, new to Cambridge, who was a cycling campaigner online in Austria standing in contested election for web position. @camcycle AGM – Tuesday Nov 6 2012

@RTaylorUK 5 people standing for 4 general campaigner posts. @camcycle AGM #live – Tuesday Nov 6 2012

@RTaylorUK Under 25 post on ctte filled by student wanting to help with social media campaigning. @camcycle AGM #live – Tuesday Nov 6 2012

@RTaylorUK RT @IanGManning: I help with @youcanhub bike eventsTuesday Nov 6 2012

Anonymous individual donor wants to fund staff for campaign. Spare cash could start other local campaigns. @camcycle AGM #live
Purpose of staff member would be to support volunteers and contact 3rd parties. @camcycle AGM #live
Potential donor may fund employee for 3 years. Will spend 10% of time seeking to fund themselves & more staff. @camcycle AGM #live
Membership at 1,091 up from 1,082 last year. 148 new members this year. 425 get their newsletter online only. @camcycle AGM #live
@RTaylorUK Meeting closed. @camcycle AGM #live – Tuesday Nov 6 2012

@RTaylorUK RT @Chris_Dorling: RT @Chris_Dorling: @RTaylorUK @camcycle Don't think I said HMRC have agreed to Gift Aid w/o declaration. Said they have agreed to GA on … – Tuesday Nov 6 2012

See Also