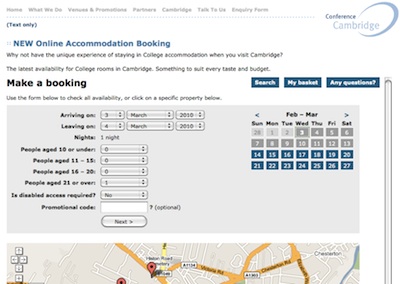 It used to be only conference attendees and guests of college members who could stay in Cambridge's colleges when visiting the city; the ability to book guest rooms was a significant perk of being a Cambridge academic. A new service, co-ordinated by "Conference Cambridge", has been launched offering college rooms to the general public for bed and breakfast starting from Easter this year.
With Corpus Christi, Clare, and St Catherine's Colleges involved in the scheme from its launch the historic central colleges appear to be involved as much as the more modern ones. Particularly given the access to gyms, tennis and squash courts, broadband internet and other college facilities, the prices, which seem to start at around £60 per night, appear competitive.
Cambridge University and its colleges have historically used their accommodation very inefficiently with full occupancy only for a week or so in early October and huge numbers of empty rooms sitting idle for the rest of the year. There has been pressure, particularly from graduate students, for colleges to make unused rooms in a particular available to those working in the wider university. While I think that using the rooms in a manner related to the colleges' primary purpose should come first there is clearly a lot of scope particularly with respect undergraduate rooms in holiday periods, and rooms unsuitable for living in long-term, for renting rooms out to the public. Perhaps having colleges working closely in relation to conferences and now the B&B service will result in more co-ordination in core offerings such as student accommodation. Greater occupancy of rooms might well enable colleges to keep rent prices down for students; helping to tackle the rising costs of university education.
Cambridge students have incredibly short terms and spend less than half of each year in the city. I hope this move doesn't increase the pressure on colleges to prevent their students staying in college just outside of term – a privilege which is already sometimes limited to top musicians and sports people. Such pressure may deny many a well-earned, more relaxed, few days of university experience without the pressures of lectures, supervisions or exams.
Universities elsewhere, including London and Oxford, have been offering their rooms to tourists for quite some time now. Cambridge University is uncharacteristically not too far behind the times with this latest commercial offering. With Cambridge's special funding for upkeep of its historic buildings under threat more inventive ways of raising money may well be needed. It is a fantastically egalitarian move by the traditionally aloof colleges to now allow anyone who pays to be able to stay the night in some of the city's most fabulous surroundings. There's potential for an economic boost to the city both the and country's tourism sector as a result of colleges opening as B&Bs.