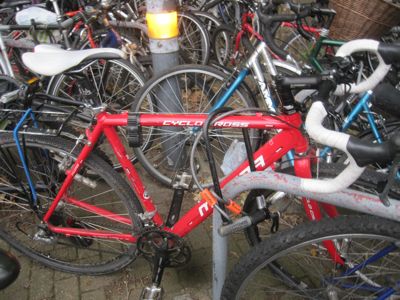 My bike locked up in Cambridge.
At Cambridge City Council's West/Central Area committee on Thursday the 5th of January 2012 Cambridgeshire Police reported that they had a number of unclaimed bikes at Parkside police station which they had recovered from cycle thieves.
During the policing agenda item at the West/Central area committee members of the public are allowed to make contributions. I used this opportunity to draw attention to a response from the police to a Freedom of Information request by ex Cllr Chris Howell which revealed the police are not recording the frame numbers of bikes they recover. I said that in light of this it was unsurprising that the police were holding unclaimed bikes.
The police suggest people record serial numbers of valuable items, and frame numbers of bikes, on the Immobilise website. I suggested to councillors that Cambridge residents might not want a third party to be holding a list of their valuable possessions and may only wish to share the details of their property when and if it is stolen.
I suggested councillors ought ask the police to record the frame numbers of the bikes they are holding so that they can be matched up to crimes where frame numbers have been given to the police by those who have had their bikes stolen. I also suggested the police should get a bit more high-tech and instead of inviting those who've had their bikes stolen to visit the store and look around, they ought photograph bikes and put the images online. While someone who's lost a bike might take the time visit the store once, or even twice, they could well keep an eye on a website every week or so over a number of months without taking up as much time as a visit to the store in-person.
Sgt Drury, representing the police, responded to say that too few people gave the police the frame numbers of their bikes when they reported them as stolen to make it worth the police recording the frame numbers of those they recovered.
Councillors were not impressed with this response and ask the police to look into recording the details of bikes they recovered and to report back to them.
Cllr Rosenstiel (who has served as a councillor over many decades) said the problem of the police not recording details of bikes they recovered was one which has been on-going for many years. Cllr Rosenstiel made the sensible suggestion that the police should work with bike shops, schools, and others to try and ensure people had a record of the frame numbers of their bikes.
A number of councillors, and others present, noted that they didn't always bother reporting stolen bikes to the police. The committee's chair, Cllr Smith, said that it sometimes didn't seem to her be worth the time and effort, to report a stolen bike and she told those present she had not reported all the bikes she has had stolen.
I, and I'm sure, councillors understand that to get the police to understand the severity of the problem of bike theft in Cambridge it needs to be reported. However the police don't make it easy to report crime, and their standard response to those reporting crime appears to be to blame the victim.
I fully empathise with those who don't report bike thefts because they don't want a lecture from the police telling them they ought to have used two different expensive and hefty locks and it's their own fault really for having their bike stolen if they didn't.
It can also be difficult to actually get the police to record a crime, particularly if you are not pushy, and knowledgeable, and actually use phrases such as "please formally record this" and "please give me a crime number" (I'm not sure those are the magic words).
On the 16th of January 2012 the Cambridge News reported that bike theft statistics for Cambridge were down. However if people are being deterred from, or don't see the point of, reporting bike thefts to the police I don't think to much weight ought be put on that statistic. It may be that if the police were more effective at dealing with cycle theft the number of reported crimes might increase as people would think it worth doing if there was a good chance of getting their bike back and seeing the thief in court.
Unelected appointee Ruth Joyce, who is the police authority member with special responsibility for Cambridge was present at the meeting but did not speak or identify herself to those present. It would have been useful for councillors to hear from her as the Chief Constable has used cycle theft in Cambridge as a counter example to what he says is his primary focus of reducing hurt and harm.