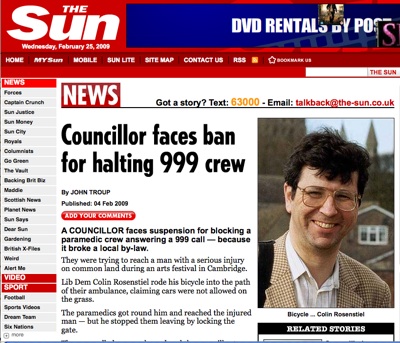 A member of the Liberal Democrats in Cambridge has tonight told me that Cllr Colin Rosenstiel is to stand down from his position as a City Councillor.
This follows the finding of a city council hearing panel which concluded that Councillor Rosenstiel failed to comply with two provisions of the Council's Code of Conduct for Councillors in relation to his obstruction of an ambulance responding to a 999 call on Midsummer common.
I think that only the electors ought be able to remove an elected representative from office, even temporarily. In the event of serious wrong doing then a by-election ought be called and electors informed of the hearing panel's conclusions.
Colin Rosensteil is apparently expected to stand, as a Liberal Democrat, for Cambridgeshire County Council in the May 2009 elections.
I have written to Colin Rosenstiel asking if what I have been told is true, and if he is to step down causing a by-election for the City Council in May 2009. I will update this article in light of any reply.
Any by-election will be important for the future of the city as Rosenstiel's market ward constituency includes Jesus Green, Midsummer Common and Parkers' Piece as well as much of the city centre including the site of the proposed Mill Lane redevelopment. These are all areas of huge importance to the city, and country, in which major change is proposed. The majority of the electorate are students who generally appear to have voted historically on the basis of national political issues, even when deciding who ought be local city councillors. It is likely that the the Liberal Democrats will be able to appoint whoever they like to the position, and in my view they have made some very poor selection decisions in Cambridge, many electors assume that a party will have properly vetted its candidates, I do not believe this assumption can be taken as read with respect to Cambridge Liberal Democrats.