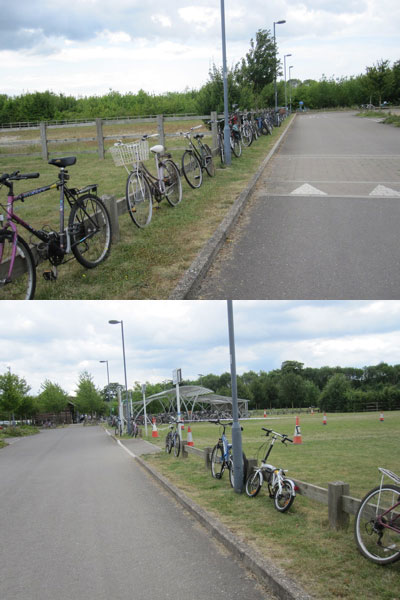 There are lots of bikes parked around the Babraham Road park and ride site's car-park, the official bike parking area is full. In the mornings as many people now cycle or walk from the site as get the bus.
I recently visited the Babraham Road park and ride site and was a surprised to see a very large number of bikes parked along the fence around the edge of the car park. As I had photographed the haphazard bike parking the site manager came out to chase me saying he gets "nervous when people start taking photographs of things". When I explained what I was doing he was able to let me know some interesting facts about the current usage of the facility.
It is now common for the site to reach capacity, for all the car parking spaces to be full.
During the first three hours of opening in the morning (0700-1000) about 900 people park on the site, only 450 or so take the bus. Of the remainder about half walk out, mainly to Addenbrooke's, and half cycle.
There is a large problem with abandoned bikes blocking the formal covered cycle racks. A registration scheme has been tried; this has enabled the manager to call up known owners of some of the abandoned bikes. He found that often people want to leave them their unused, typically claiming they've not been using their bike recently for some temporary health reason. Even owners of bikes which have deteriorated to a clearly unroadworthy condition insisted they were planning to return and use them soon. Some owners who were called had left Cambridge permanently and had abandoned their bikes.
Bikes which are determined to have been abandoned are either scrapped (if they are in poor condition) or auctioned via the police. On rare occasion people come looking for bikes they parked six months ago and hadn't touched since so have been removed.
The site manager thought there was a need to charge for bike parking to deter people from abandoning their bikes; he suggested a £1 a week charge would be the right level. He thought that simply providing more and more racks would not be the answer, they would just be filled up with under-used or abandoned bikes. Unlike at the Madingley Road and Newmarket Road sites there are no cycle lockers at Babraham Road.
Thoughts and Ideas:
While lots of people parking then walking / cycling is something to be encouraged; if so many of the parking spaces are taken up by those not paying to take the bus – does that threaten the commercial viability of the bus service? Presumably at some point it will if the non-bus using fraction increases.
The numbers of cycle lockers at the other sites is relatively small, and I can't imagine people paying for "plain" cycle parking. Perhaps a middle-way alternative would be a cycle parking "cage" such as that at the University of Cambridge chemistry department at Lensfield Road. Would people be prepared to pay a small charge for that, which would ensure cycle parking within it was always available?
The costs of extending the current hard surface, floodlit carpark have been estimated at an incredible £3500 per parking bay. An additional seventy places were provided by using grass strengthening plastic grids in 2008 *.
How will new multi-story car parks on the Addenbrooke's 2020 site affect the Park and Ride? Is there any point encouraging people to park at the P&R for Addenbrooke's if they can, in future, park on site? While the presence of the P&R makes it easier for Addenbrooke's to meet its aims to reduce car-use by those using the site, what reason is there those car parking spaces wouldn't be better located on the newly expanded Addenbrooke's site itself? There is no point artificially limiting parking on the hospital site, if parking is to be provided at the P&R sites nearby and the same number of journeys are still made by car.
Dealing with the problem of abandoned bikes blocking cycle racks is a problem at many locations in Cambridge. I will be interested to see how the CB1 station area developers manage to enforce their proposed short stay cycle parking area. At the moment I think the best solution is generally simply more cycle parking facilities, with a sensible moderate and well publicised policy for removal of abandoned bikes.