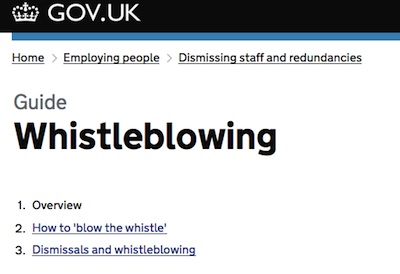 During 2013 the UK's whistle-blower protection laws were modified, but MPs didn't, as far as I can tell, take the opportunity to extend the provisions to students. I think this was a missed opportunity.
The UK Government's Whistleblowing webpage covering dismissals and whistleblowing states:
Workers who aren't employees can't claim unfair dismissal because of whistleblowing, but they're protected and can claim 'detrimental treatment'.
I think graduate research students could be considered "workers who aren't employees", though it appears the law doesn't apply to them. The whistle-blowing law even specifically excludes students on work experience arranged by universities or other academic institutions though others on work experience are covered.
The Government's list of prescribed people and bodies to whom whistleblowers should make disclosures does not include an entry for students which again strongly suggests students are not covered by the law.
The 2013 changes to the law were within the "Protected disclosures" section of the Enterprise and Regulatory Reform Act 2013. Section 20 extends the definition of "worker", this was the opportunity to add students to Section 43K of the Employment Rights Act 1996 but it wasn't taken.
Practical Impact
Cambridge University and its colleges like many large employers have whistle-blowing policies which apply to staff. Cambridge University, and as far as I know, its colleges, don't though have such policies which apply to students. Extending the law to cover students would, I expect, prompt universities to put in place formal policies for student whistle-blowers, which would protect those raising concerns in the public interest.
I think formal policies might change the way those raising concerns are treated, and the chance of the institutions responding positively to address the issues raised would I hope be increased.
As well as increasing the chance of a positive response I would like to see a reduction in the persecution, discipline, and punishment of those raising concerns in the public interest.
I don't think access to an "employment tribunal" is a key, in fact it would probably add complexity to an already confusing array of routes for students trying to address problems within their institutions. It may though be that the backing of the potential for taking a case to a tribunal would be required to prompt change within institutions.
I think strong and effective students unions are the best way of protecting the interests of students.
What Might Students Need to Whistle-Blow About?
Students may come across the same sorts of things as members of staff can within their institutions:
someone's health and safety is in danger
damage to the environment
a criminal offence
the institution not obeying the law
Status of Graduate Students
While extending whistle-blowing protection to graduate students would I think be a positive step the way I would like to see this done for those paid government tax-free studentships is for them to become employees, I think this would have wider benefits, beyond whistle-blowing and employment style rights, particularly in relation to engaging with the world outside academia for example explaining income when seeking a mortgage or a job in the real world.
There is no issue with taxation as the salaries could be nominally increased to account for income tax to be levied when studentships became salaries. As this is money going round in circles there is no net cost.
Alternatively we could stop the charade of all public sector workers paying basic rate income tax on their salaries; that would also solve the problem but would be harder to achieve.